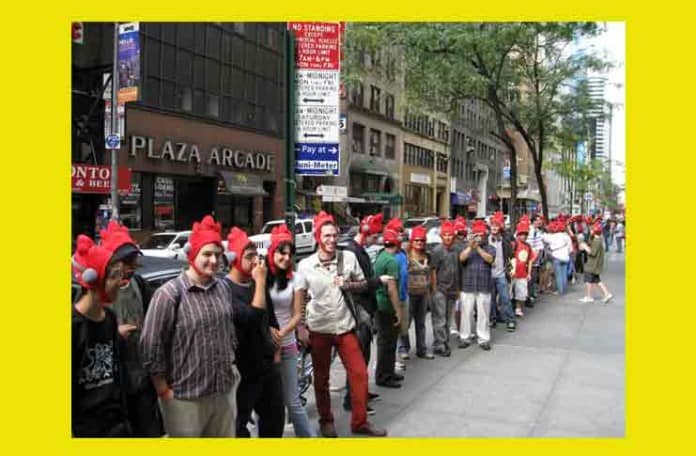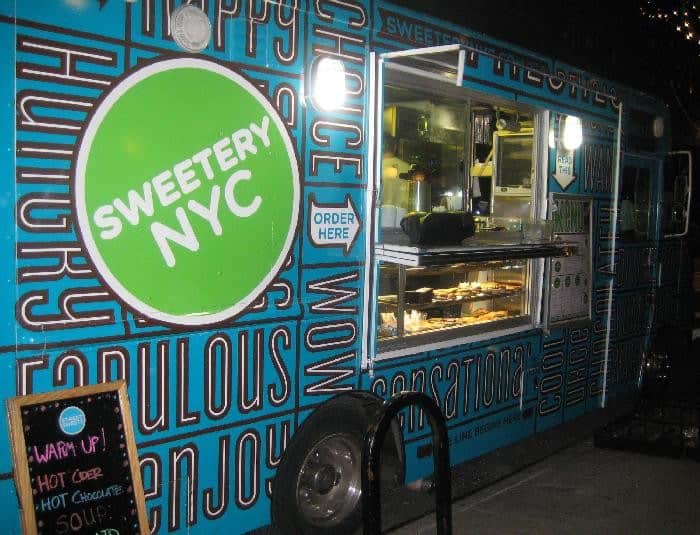 After all the problems for food trucks at Hudson & King last Thursday, we headed over there on Friday to speak with some of the trucks and get the lay of the land.
From what we were told by a couple of the vendors, the police said there will not be any more food trucks allowed near Hudson & King after Memorial Day weekend.
At present, there are not a lot of lunch options on Hudson St just below Houston.  When there were 2 or 3 trucks, nobody complained – but lately there have been 5 or 6 food trucks every day.  On Thursday there were either 5 or 6, and on Friday, there were still 4.
I spoke with Grant from Sweetery who said a police detective, Richard E. Lee from the Community Affairs Division of the 1st Precinct, told him no food trucks will be allowed in the area after the Memorial Day weekend.  Jeremy in the Rickshaw Dumpling Truck was told the same thing by Det. Lee.
Debbie from Eddie's Pizza Truck, who was parked in front of the Euro RSCG building at 350 Hudson, was told by the building manager the police will be called if there is more than 1 truck parked in front of their building in the future.
While there are not a lot of places for people working around there to eat, I did find out that Hale & Hearty Soups and Pret A Manger will both be opening soon in buildings on Hudson St.  NOW we understand why some of the landlords have started to become more active in fighting the food trucks.
Yes, 5 or 6 food trucks is too much for a two block area, but a few should not be a problem – unless tenants are opening new restaurants in your building.
We stopped by Hudson & King this morning around 8:45 on the way to the office, and the only truck there was Marrakech Chefs.  When I told them what the police said on Friday, they had not heard, and were very surprised.  I asked them to let me know if they get kicked out.
As I said last week, this is where the NYC Food Truck Association needs to step up and get active. Food trucks can only stand up to landlords and police as a group.
Might we suggest the NYCFTA negotiate an agreement with the police and landlords to have 1 NYCFTA Member food truck allowed on each side of Hudson St, and any other trucks would not be allowed to park there.  The NYCFTA can determine which of their members have permission to park there on a rotating basis.
This would have the added benefit of getting more food trucks to join the NYCFTA, which is the only way significant, lasting change can be achieved.