(credit: NYSF)
Earlier this year when they first came out, we tried Mike 'N' Willies.  They serve slides and tacos, with 3 of each type to choose from.
Last time we tried few items.  This time we're going to try a few other menu items: a Lil' Piggie slider, s and Pea-nocchio slider.  The prices are in the $3.50-$4.50 range, but they have a lunch special of any 3 for $10.  That saved me a couple of bucks.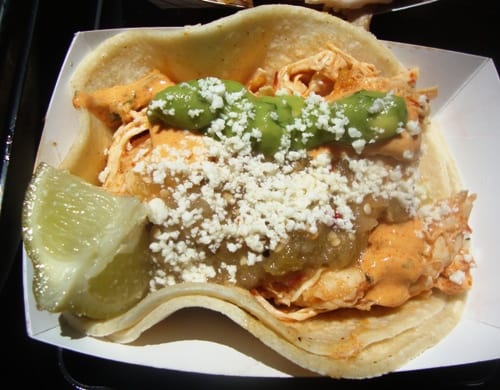 I started with the Pea-nocchio slider, which is the only vegetarian item on the menu.  It's a fried chickpea slider with chipotle pepper mixed into the chickpeas.
The slider is a little smaller than a hockey puck, but much tastier.  It's topped with slices of tomato and a pickle, as well as an herby sesame seed sauce.  Very enjoyable, with a nice little afterburn from the chipotle.
Next up were the lime chicken tacos, which I've never had before. Last time they were out of it, but this time I went a little earlier.
The first thing i noticed is they use two tortillas for the lime chicken tacos. Good move. There was also a wedge of lime, which I squirted on the taco, and lots of shredded white-meat chicken.
I could see 3 different sauces (!) on the taco: guacamole with small pieces of avocado and cilantro, a green tomatillo sauce which also had plenty of cilantro, and what appeared to be a chili-mayo sauce.  Oh, there was crumbled cojita cheese on top too.
This was a little more substantial than the Pea-nocchio, with a lot of shredded chicken in the taco.  Good thing two tortillas were used, or there could have been breakage. There was an afterburn on the lime chicken tacos too, but a bit less than the Pea-nocchio.
Last up was the Lil' Piggie, a pulled pork slider with chipotle lime slaw on top.  There was a good amount of pulled pork on this slider too, and it was topped with their homemade bbq sauce.  The bbq sauce was smoky and a little sweet, but still had a tang.  This is the kind of bbq sauce I like, not too vinegary.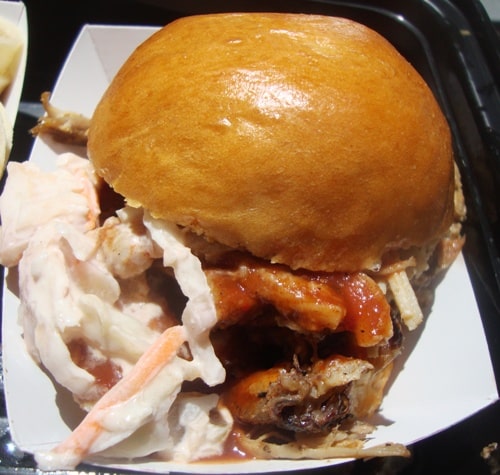 I also noticed the bun for the Pea-nocchio was a little different than the Lil' Piggie.  The first one was very soft, but it would have been too soft for the Lil' Piggie, whose bun was a little firmer.
Everything I've had at Mike 'N' Willies has been good, so it's more a question of what you're in the mood for.  My personal favorites were probably the Pea-nocchio, Big Bad Brisket and the fish taco, but that's my taste. Yours may be different.
Mike 'N' Willies gets around to various neighborhoods and food truck lots. You can find them on Twitter here or on our Mobile Munchies Twitter feed.