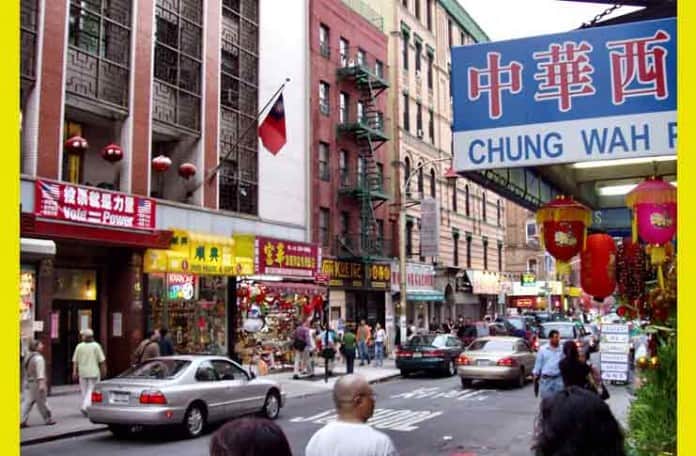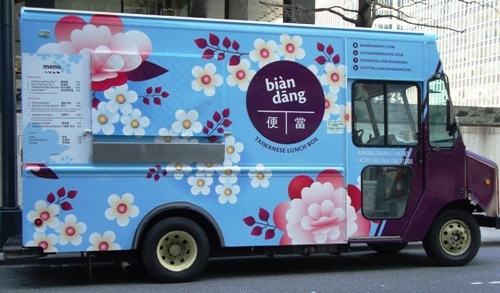 Bian Dang, formerly known as the NYC Cravings truck, was back on the street this week after closing for the winter to open their new space in Food Gallery 32.  The 2009 Vendy Award Rookie finalist changed the name of their truck to Bian Dang ("lunch box" in Mandarin), as well as the truck's design.
Today they are parked at Carmine and Varick, literally 2 blocks from my apartment.  I couldn't pass up an opportunity like that.
The old truck was nice (below), but the new truck (above) is much more colorful and vibrant.  My wife said it actually looks like a kid's lunch box.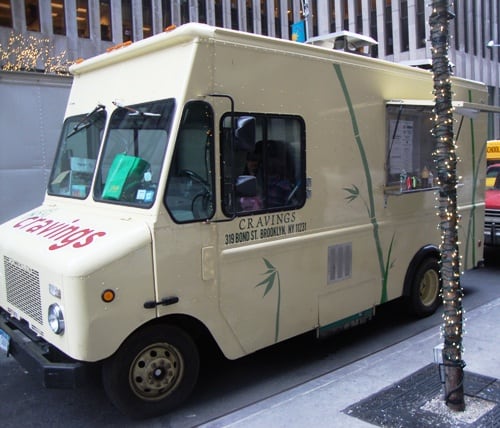 The food is basically the same (meaning excellent), although Diana told me the dumplings were being made differently from last year.  I've enjoyed the fried chicken and pork chops in the past.  For something new, Today's Lunch is tianbula (fish cake-$8)  and pork dumplings ($3) from Bian Dang.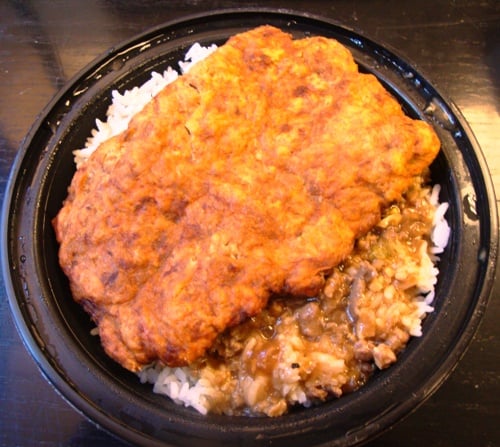 The tianbula was very similar in size to a schnitzel from Schnitzel & Things, taking up most of the same round, plastic container used by S&T.  The tianbula was deep fried and dense, but it wasn't fishy tasting at all.  The breading had some nice flavors including Chinese 5-spice powder that lightened up the dish somewhat.
The fish cake was served over white rice topped with Bian Dang's delicious pork sauce and some tangy, chopped greens.  The pork sauce is definitely one of the best things Bian Dang does.  There were large and small pieces of pork in it, and it was spiced even better than the fish cake.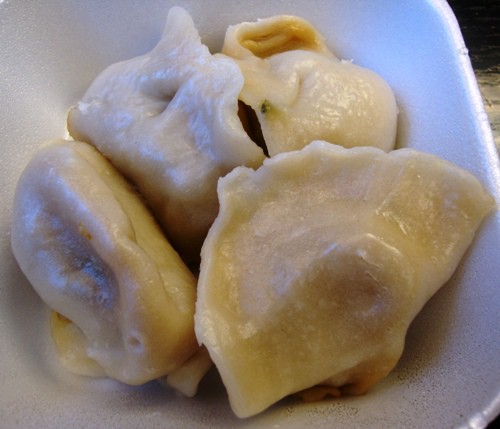 There were 4 steamed dumplings in the order, which was a nice-sized portion for an appetizer.  Inside the dumplings were a ground pork and greens filling with a light marinade that was pretty tasty.  The dumpling skin was good too, but I have one complaint.
There was no dipping sauce!  I realize the filling was marinated, but the skins were big enough that a dipping sauce would have made them even better.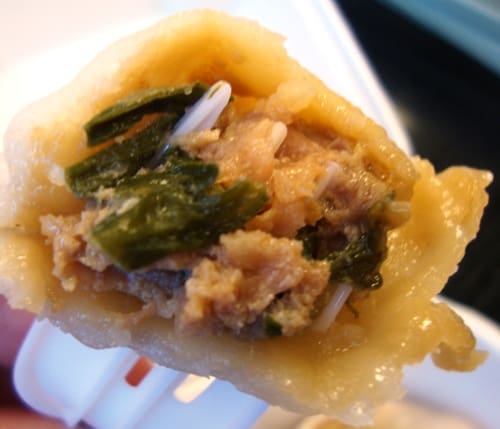 Today's Lunch was really enjoyable.  It's good to see Bian Dang back on the street (and so close to home).  The food is as good as ever, and I love the design of their new truck.
Diana also told me the Bian Dang store at Food Gallery 32 (11 West 32nd St) has more of an expanded than the truck, with new dishes like General Tso's chicken.  Check it out if you're in the area.
As a reminder, below is the truck's menu.  Enjoy!