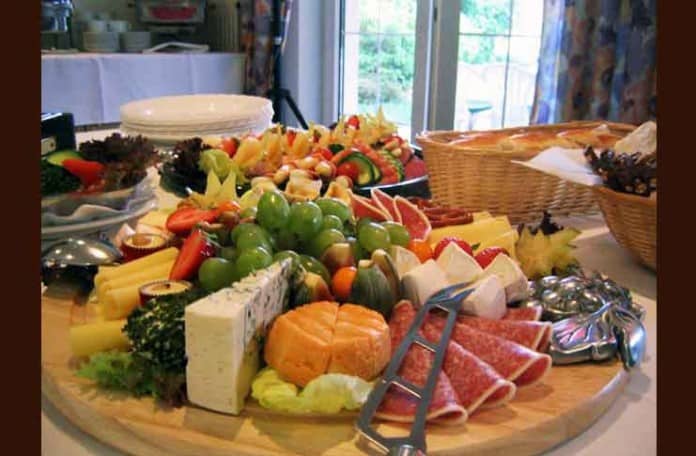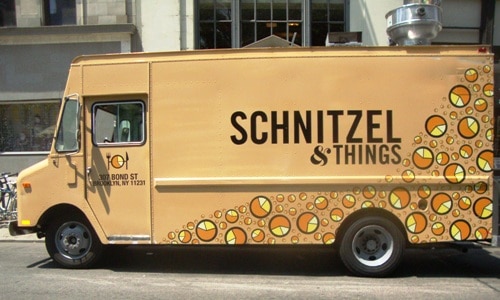 Yes, I'm crazy. It's one of the hottest days of the year and I get a deep-fried schnitzel sandwich for lunch.
It's been a while since I went to Schnitzel & Things, who were the first food truck I ever went to back in the summer of 2009.  That lunch gave me the idea for New York Street Food, and here we are two years later still eating street food for lunch nearly every day.
I've had several schnitzel platters, but never a schnitzel sandwich, so for Today's Lunch, I got a pork schnitzel sandwich ($8) .
You get a choice of several sauces on any sandwich, and I opted for the sriracha mayo. You can also get pesto mayo, ginger & scallion sauce and a couple of others.
This is a BIG sandwich. In fact, the cutlet was so big, they had to slice off about a quarter of it and put it on top. Otherwise, it would have been hanging too far outside the bread – and it was a pretty big roll too.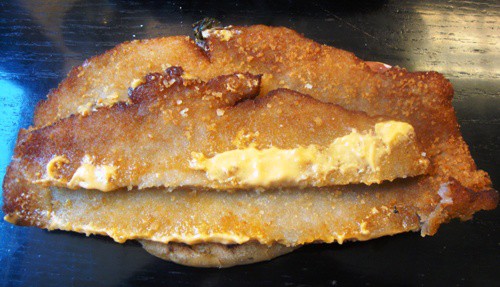 They put a few greens on the bun, as well as some slices of tomato and sriracha mayo under the cutlet.
Pork schnitzel is probably the densest of the schnitzels (chicken, veal and cod), so I would probably recommend chicken or cod in the hot weather, which are somewhat lighter.
Nevertheless, it was delicious.  in an air conditioned office, it didn't really matter how heavy the meal was, because I wasn't going outside for another 5-6 hours.
The pork schnitzel sandwich had an abundance of tender, thin pork cutlet on a very soft bun.  The bread was very lightly toasted, and was similar to a Portuguese roll, only larger.  The sriracha mayo was a good choice because it perked up the meat and gave it some heat (hey, that rhymes).
One of the most important elements to schnitzel is the quality of the meat.  There's nothing worse than stringy, chewy schnitzel.  That's never a problem at Schnitzel & Things.  I've had their veal, pork and chicken, and never had a stringy or chewy cutlet.  It's always tender and cooked just the right amount of time.
Today's Lunch from Schnitzel & Things was excellent, as usual.  They've been having some mechanical problems with the truck, so it hasn't been on the road every day, but it seems to be rolling again lately.
You can follow them on twitter here, facebook here,  or you can go to their storefront location at 723 Third Avenue, between 45th & 46th St.  There are a few more menu items at the store (eggplant schnitzel, yum), but the truck is the original, and will always be first in my book.