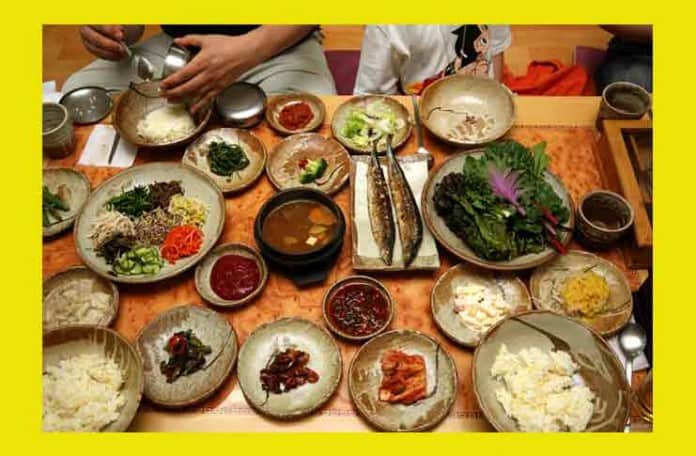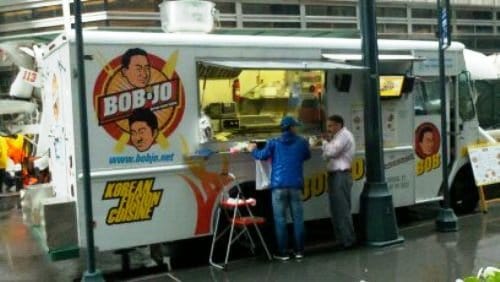 It was rainy out again today, but that didn't stop Bob & Jo from serving lunch on 48th St between Madison & Park Ave.
I previously tried Bob & Jo when they first appeared at the end of July, but I would file that lunch under "working out the kinks".  Jo didn't show up that day, and Bob was furiously working the truck solo – taking orders, cooking and packaging all by himself.  The food tasted good, but I reserved judgement on the service until there was more than one person working on the truck.
I went back to Bob & Jo again for Today's Lunch, and got the Pork Rice Platter ($9).
Walking up to the truck, there was one person outside the truck taking orders and 3 people inside the truck working.  With 4 people working the truck, I walked away with lunch about 2 minutes after ordering.  This was light years better than last time, when only Bob was on the truck.  It was rainy out, but 4 people working should make the lines move much faster when the weather gets nice again.
The Pork Rice Platter comes with grilled pork belly that was marinated in a spicy sauce and served over white rice.  For condiments and side dishes, there was a small container of "special sauce", another container of kimchi and a side salad.
I didn't have my regular camera today, so please excuse the lower quality camera phone photos.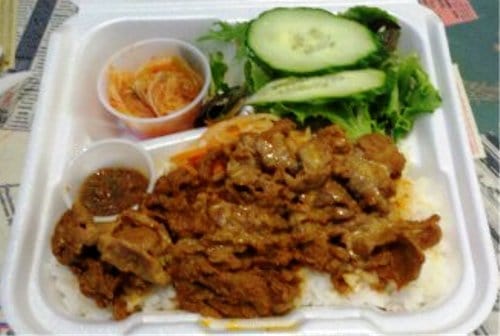 The pork was tasty, but not overly spicy.  I would call this medium spicy.  There was a decent amount of pork, but it wasn't cut all the way through, so it was like one long string that had to be pulled apart before I could eat it.  I enjoyed the flavor of the pork, which seemed to have a slight kimchi taste to it as well.
The "special sauce" was fermented beans, which tastes better than it sounds.  It was more the consistency of a remoulade than a sauce, but the special sauce added intensity and depth when added to the pork.
The kimchi was cold, vinegary and refreshing.  It was spicy, but not killer.  I probably should have put some on the meat, but I ate it as a side dish.
The salad was better than the average street food salad, with nice mixed greens and two slices of cucumber with a very light dressing.
Today's Lunch from Bob & Jo was very enjoyable.  I don't know why they call it Korean Fusion Cuisine because it seemed pretty traditionally Korean to me, although I'm not an expert on Korean cuisine.  The only thing that seemed non-Korean was the rice, which tasted like it was made with butter and salt.
Nevertheless, I can definitely recommend Bob & Jo as a suggested New York Street Food vendor, and they are included in our directory and on the Mobile Munchies twitter feed.
We have already added Bob & Jo to our Mobile Munchies twitter feed and our directory.
You can also follow Bob & Jo on twitter here and their website is here.