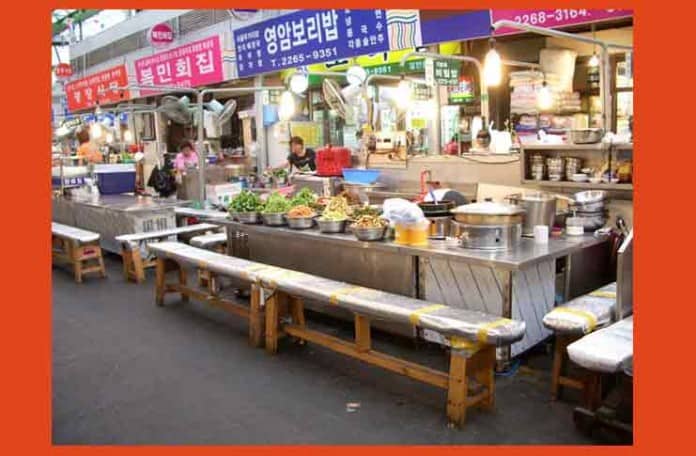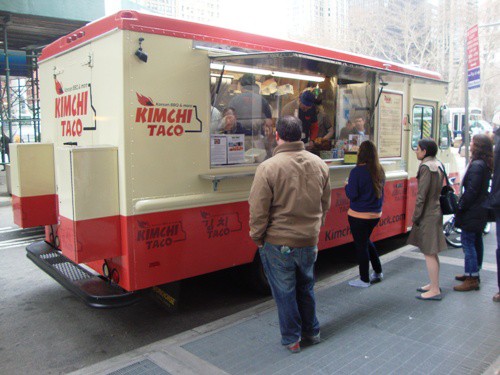 I've previously been to the Kimchi Taco Truck for two of their main courses – kimchi tacos and a kimchi bowl.  The main course I haven't tried yet was a kim-cheesesteak, and today was the day.
I wasn't sure whether to get beef or pork, but one of the owners, Phil, suggested pork because that's his favorite.  Her also recommended the spicy rice cakes.
Today's Lunch is a spicy pork kim-cheesesteak ($7), with a side order of spicy rice cakes ($3).  Guess I'm an easy mark 🙂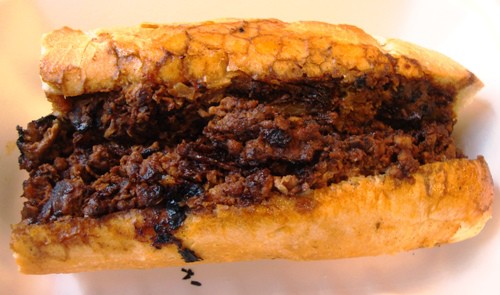 This may not be the prettiest looking sandwich, but it was tasty.  The pork was bbq'ed with a nice amount of charring, and it was somewhat spicy.  I still added hot sauce, which made it very hot.  Now that's a spicy sandwich!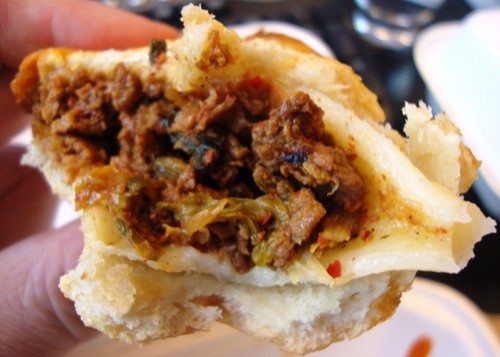 I was a little worried when I didn't see any cheese at first, but I definitely tasted it, and after 1 bite, there it was, under the meat.  Normally with cheesesteak, they melt cheese on top of the meat, but here they put the provolone cheese underneath the meat.  There were also pieces of kimchi and some peppers in the meat too.  It was delicious!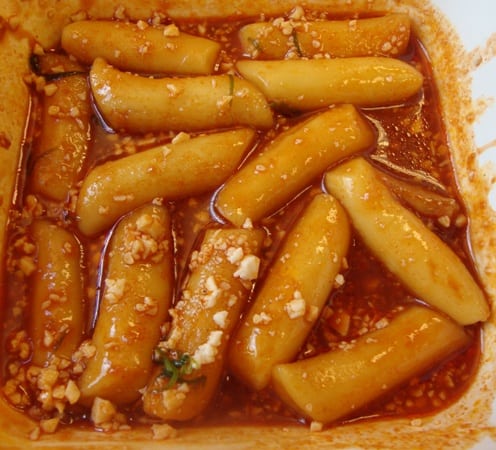 The spicy rice cakes were nothing at all like I expected.  The only rice cakes I've ever heard of were the crispy snack discs that come in long, narrow plastic bags.  Put that image out of your head.  This appetizer has nothing at all to do with those snacks.
These were more like Eastern European dumplings, but tubular shaped.  With a different type of sauce, they wouldn't be out of place in the East Village Ukranian restaurants or the Polish restaurants of Greenpoint, but these were their Asian-Mexican cousins.  It was served as a cold appetizer, which also surprised me.
They spicy rice cakes were basically dough with a red pepper sauce and crumbled queso blanco cheese on top.  The rice cakes were a bit chewy, but they were tasty.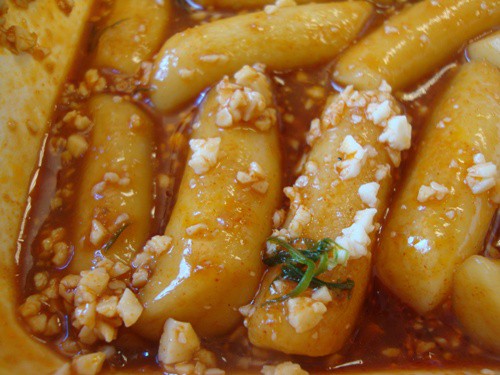 Today's Lunch was very good.  I liked the spicy pork kim-cheesesteak with provolone very much.
Now that I've had all three types of main courses from Kimchi Taco Truck, I can say the kim-cheesesteak is certainly the meatiest.  Without the toppings of pico de gallo, sauteed kimchi and scallions that are on the tacos and in the kimchi bowl, the taste of the meat here really stood out.
That's only a good thing if the meat is decent, as the spicy pork at Kimchi Taco Truck was.  With a lesser quality meat, it wouldn't have been nearly as good.
The spicy rice cakes were pretty good, but my personal preference for an appetizer is the kimchi arancini.  Maybe that's just because they're deep-fried!
With the quality of food here, the Kimchi Taco Truck should be around for quite some time.  And as I've previously mentioned, they will also be opening a Kimchi Grill in Prospect Heights within the next few months, for those of you in Brooklyn.