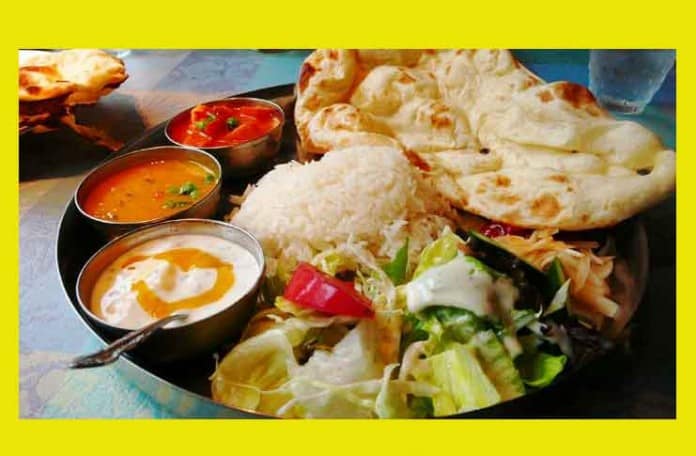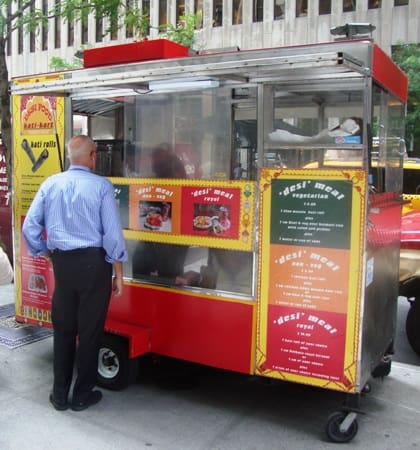 Although the Kati Kart is a new Indian food cart, it won't be getting a NYSF First Look because we are already pretty familiar with the menu.
Similar to Eddie's Pizza Truck, who got a new cart last month, the Desi Food Truck now has a brand-spanking new food cart on 50th St between 6th & 7th Ave.  The Desi Food Truck parked in this spot before the police crackdown, but with a cart, there are no worries about police harassment.
The menu is pretty similar to the Desi Food Truck, with biryani, daal, chicken tikka masala and 5 different kati rolls ranging from $4-$5.50, with reduced prices for buying 2 kati rolls.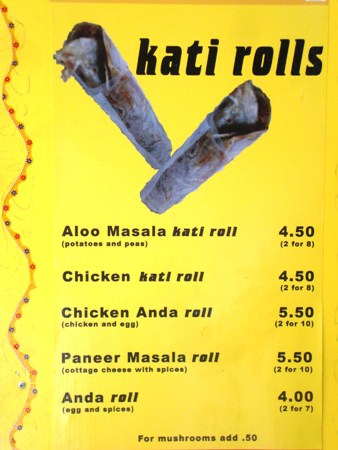 For Today's Lunch, I ordered a chicken anda and a paneer masala roll, which were 2 for $10.
The kati rolls at the Kati Kart are more expensive than those at Biryani Cart (which are 2 for $6), but they are significantly larger.  One kati roll from here might be enough for some people for lunch, and two is definitely a large lunch.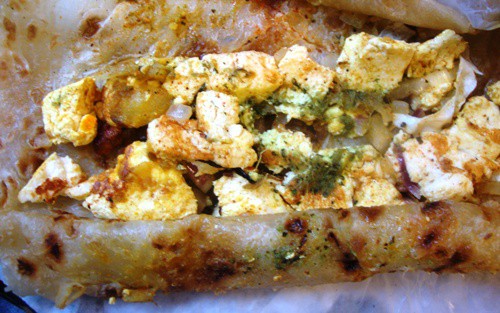 I started with the paneer masala roll, which is like a soft brick of cottage cheese that is grilled and cut up.  It's then put into grilled chapati bread, along with onions and cilantro chutney.
The paneer masala kati roll was a little oily, but it tasted good.  The onions and cilantro chutney added some spices to the cottage cheese, which would have been on the bland side without it…but with the onions and spices, it was very enjoyable.
I then opened up the chicken anda roll to take a look.  Inside was chapati bread was a fried egg, plenty of chicken tikka, and a couple of onions. The chicken was a mix of white and dark meat with that tasty tikka seasoning.
Each bite of the chicken anda roll was delicious!  Fried egg, chicken tikka and grilled chapati bread are a killer combination.  This kati roll was excellent, and probably large enough for many people for lunch.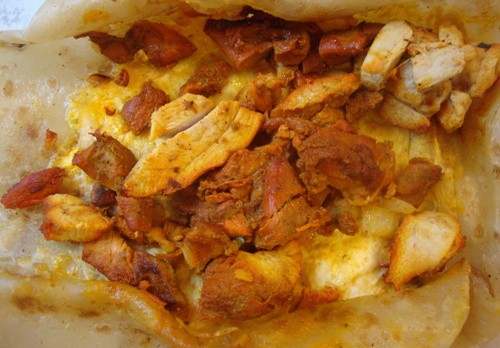 Today's Lunch from the Kati Kart was very good.  The kati rolls were big and filling, not to mention tasty.
Congratulations to Al and everyone at the Desi Food Truck on the new addition to their family, the Kati Kart.