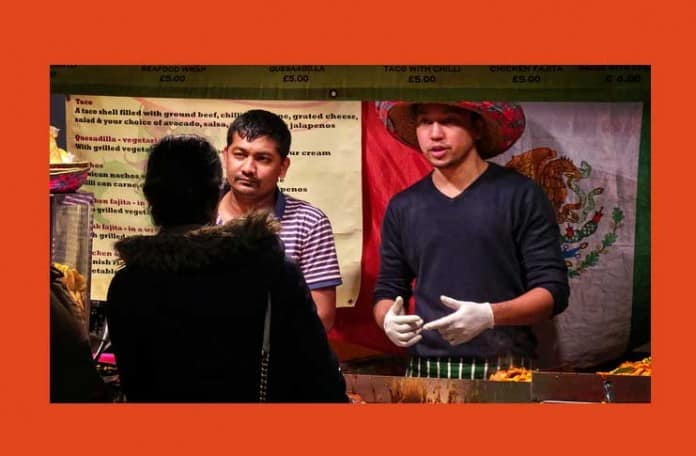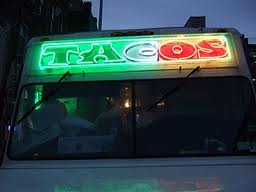 As I mentioned in last week's post on Paty's Tacos, I had to be back on the Upper East Side again this week.  Last week, the campechano burrito from Paty's Tacos was pretty good.  When I was waiting for my order that day, the guy in front of me ordered a huarache, which looked huge and awesome.
Today's Lunch is a huarache ($10) from Paty's Tacos on Lexington Ave just north of 86th St.  You can't miss them – the truck has a big colorful neon sign that says TACOS on the front.  I forgot my camera today, but the above picture of the taco sign was online.
Whatever Mexican street food you want, Paty's Tacos probably has it – tacos, burritos, tortas, cemitas, huaraches, quesadillas, tostadas, sopes and other dishes.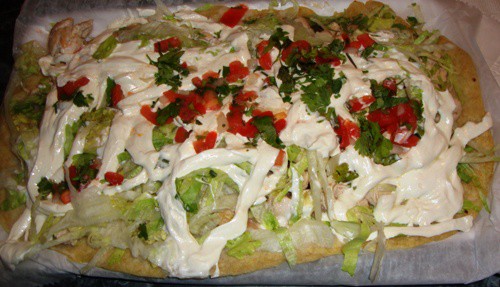 This version of huarache is definitely a meal for 2 people.  This really big corn tortilla (it had to be well over a foot wide) had white beans, chunks of white meat chicken, lettuce, onions, tomatoes, sour cream, cilantro and a Mexican string cheese all piled on top.  And it was pretty heavy to carry back from the Upper East Side.
When I got back and dug in, it was very tasty.  The chicken, lettuce, and cheese were the main tastes, and it was a bit salad-like.  It wasn't heavy like some Mexican dishes can be – it was definitely lighter.  The flavor of the corn tortilla also came through nicely, along with the white beans.
There wasn't much sour cream, and it wasn't spicy either.  I did add some salsa verde that came on the side to get some heat, but if you don't like spicy food, this huarache should suit you just fine.
Today's Lunch gets an 8 out of 10.  It was $10, but had to have been meant for 2 people.  This was way too big for one person to eat, especially for lunch – but I might eat it all for dinner.
I don't get to the Upper East Side very much, but when I do, Paty's Tacos will be on the agenda.