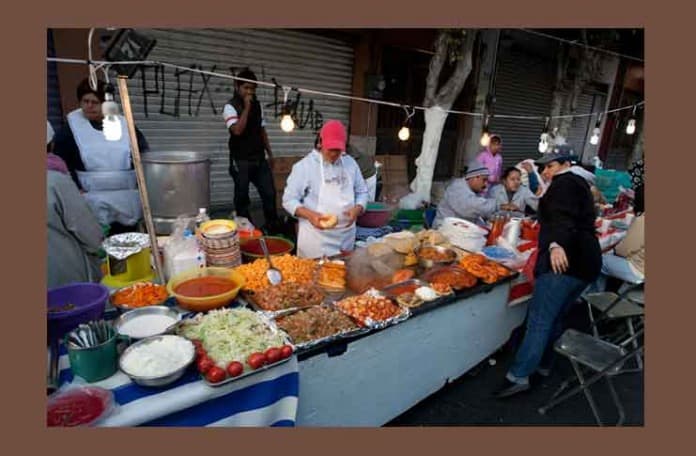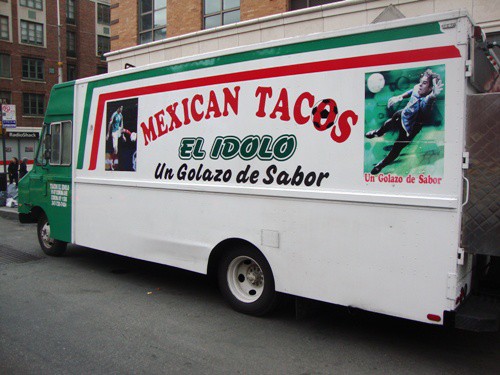 I often see the El Idolo taco truck in Greenwich Village, on 6th Ave between West 4th St and Washington Place, although their schedule doesn't seem to be that regular.  I enjoyed a couple of tacos from El Idolo last January, and after trying huaraches from Paty's taco truck on the Upper East Side about a month ago, I wanted to try huaraches from El Idolo.
Today's Lunch is chicken tinga huaraches ($5) from El Idolo, although I also ordered a chicken tamale that I paid for, but it didn't end up in my lunch.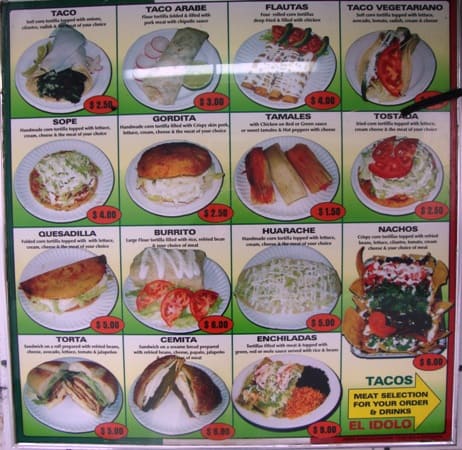 They have a large selection of Mexican food, as well as different meats.  Huaraches are large corn tortillas topped with cream, cheese, lettuce and your choice of meat.  For those of you with more adventurous tastes, they have pig's ear (oreja), tripe (tripa), tongue (lengua) and goat (chiva), but I chose spicy chicken (tinga).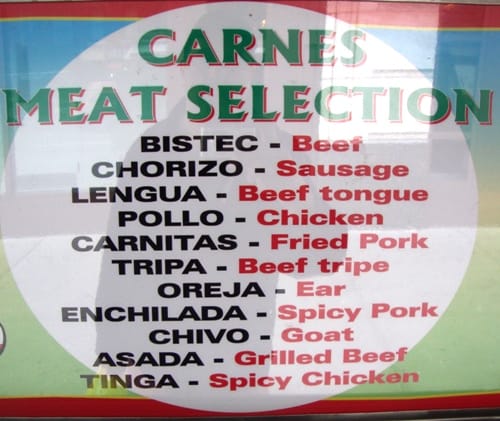 With these huaraches, the large corn tortilla was grilled so that it was crispy, as opposed to the huaraches from Paty's, where the corn tortilla was soft.  El Idolo also closed it in half like a large taco, whereas Paty's was served open-faced.
It was a little tricky cutting into the crisp tortilla because meat and cheese squeezed out from the edges – but once I took a bite, I was quite happy.  The chicken tinga was quite spicy, and there was a nice amount of shredded chicken inside.  I had opened up the huaraches in order to put on some salsa verde, but it wasn't really needed, as the chicken tinga was plenty spicy.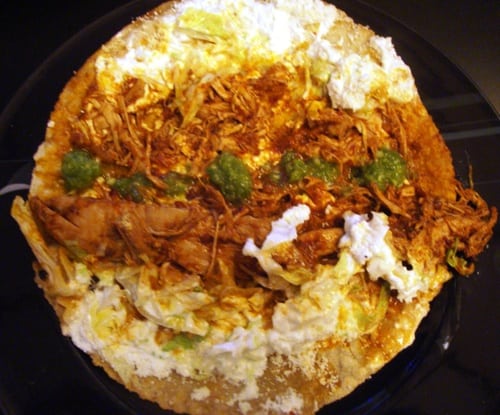 There was a lot of cheese and cream.  In fact, it was quite spicy, creamy and cheesy, which is a combination I really like.
Today's Lunch is a 7.5 out of 10.  It was quite filling for $5, but the chicken tamale I ordered never made it into my bag, which was a definite problem.  Wonder if it was because the guy serving me was on his cell phone the entire time I was there.   The food was good, the value was good, but the service needs improvement.