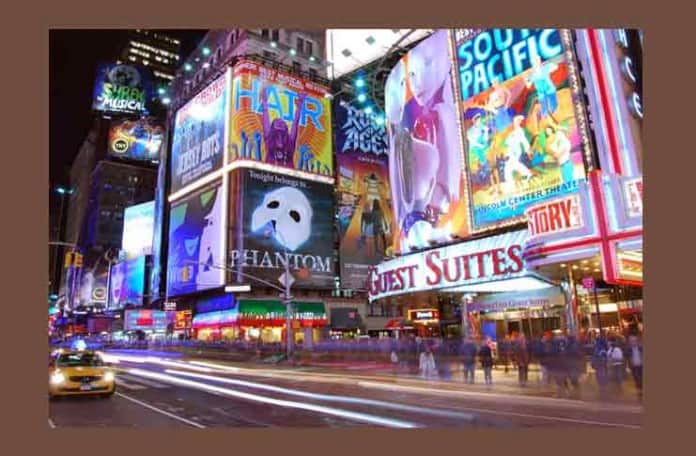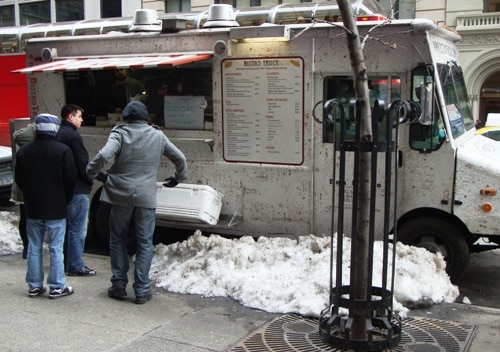 I had to be near Union Square around lunch, and wanted to talk to Yassir from Bistro Truck.  Towards the end of last year, he told me that he was working on some new things, and I wanted to get an update.  I stopped by Bistro Truck last month, but Yassir was out running an errand, so I went back today to speak with him (and of course, get lunch).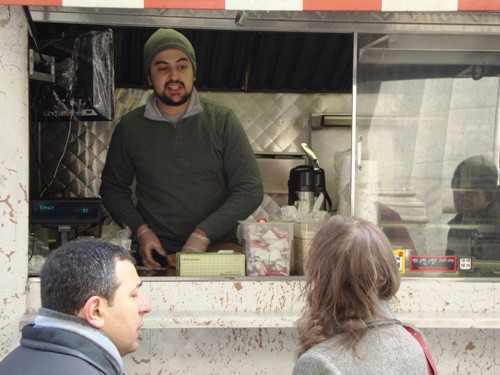 Yassir told me he will be coming out with a brand new food cart in the coming months that is totally different from anything currently on the street.  He was reluctant to give out more details, but I gave him my word that I wouldn't divulge anything to NYSF readers until he was ready to go public.
Yassir then told me what his new food cart will be, and while I'm sworn to secrecy for now, believe me – it will be HUGE!  I promise to tell you as soon as Yassir gives me the ok, so keep checking in with us.
When it was time to order, I've always been curious about the Chicken Dijon at Bistro Truck.  It's been on the regular menu since I've been going there, but Yassir's Daily Specials are so good, I usually end up getting one of those.
Today's Lunch is Chicken Dijon ($6) from Bistro Truck.
Chicken Dijon is pieces of marinated white meat chicken with mushrooms and onions over either couscous or rice, with a salad on the side.  It may look like regular street meat, but it's of a much higher quality.
The chicken is cooked in Dijon mustard, creme fraiche and some herbs.  The mustard flavor is not strong, as the creme fraiche really brings it down.  The chicken was tender and tasty.
Along with the chicken were large slices of mushrooms (the dark items in the picture) and grilled onions.  These added nicely to the overall taste of the dish.
Since I get rice a lot, couscous was nice for a change – and Bistro Truck's couscous was cooked just right, buttery and delicious.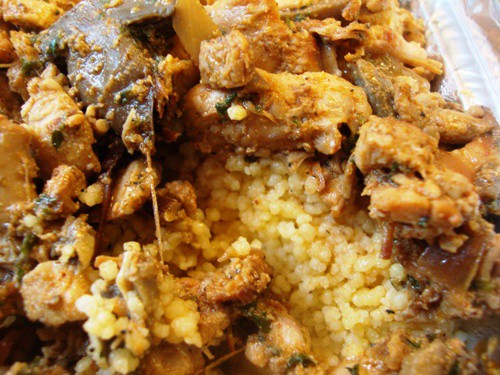 Much of the street food I order comes with a side salad, which I often ignore.  But the salad here was fresh, with arugula, frisee, sliced tomatoes and a balsamic vinaigrette.
I thought the salad would be a good way to end the meal, but under the salad was more Chicken Dijon and couscous!  Yassir puts the salad on top of the main course, so there is always more food under the salad.  Nice!
Today's Lunch was very good.  Not only is $6 a great price for this lunch, but it was quite tasty too.  Not a big surprise, with Bistro Truck being a 2010 Vendy Award finalist in the main category.