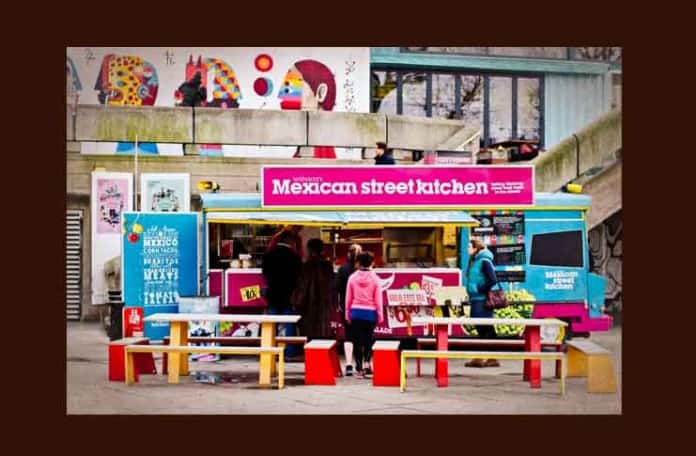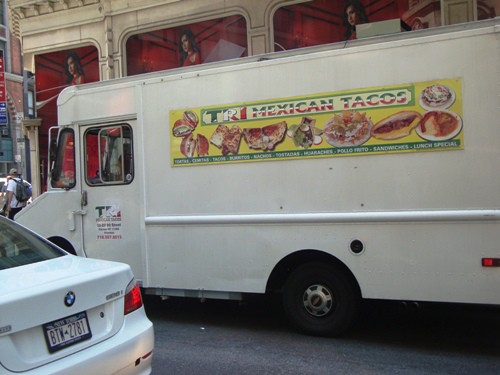 Some days you want tacos and some days you just want a sandwich.  Today's Lunch is a compromise between the two – a cemita de pollo ($7) from the Tri Mexican Tacos truck on 20th St between 5th Ave & Broadway.  I've had their tacos, which were good, and wanted to try something different.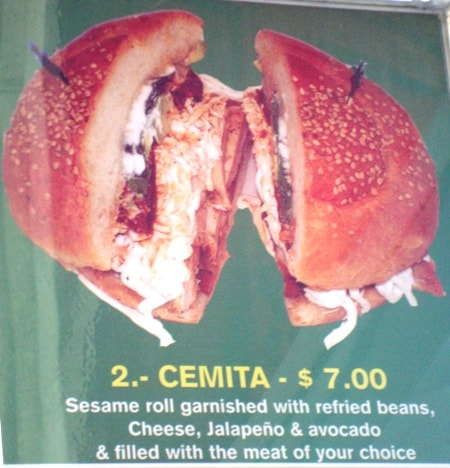 A cemita is a Mexican sandwich described in the picture above from the truck's menu.  For the meat, I asked for pollo milanese (breaded chicken cutlet), but I ended up with grilled chicken instead.  If that's my biggest problem, things are not so bad.  How did the cemita compare to the picture?  Find out after the jump.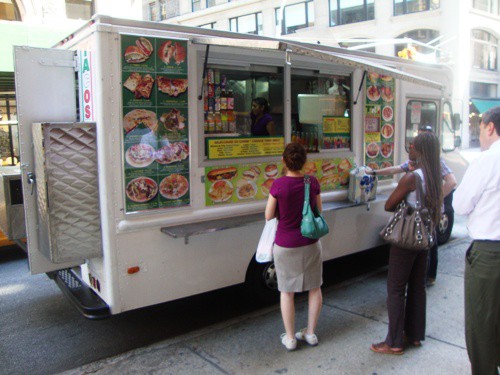 The truck was significantly busier than last time I was there, which is a good sign, but they were having a little problem with organization.  Someone ordered four lunches of the same thing, but only got one, so he had to wait more while they made up the other three.  This set everyone else back a bit, and I ended up waiting more than 10 minutes.
Most people seemed to order the tacos, but that's what I had last time, although I do still want to try their shrimp tacos.  I also ended up with grilled chicken instead of breaded chicken, which was the 2nd mistake I saw.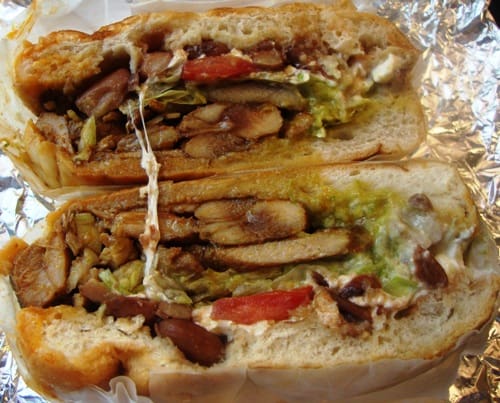 When I got back to the office, the cemita was really tasty.  The chicken was tender and juicy, and it looked like they poured some of the chicken juices on the sandwich because about half of the bottom of the roll was soggy.  Between the chicken juices and the guacamole, the bottom of the roll took a beating – but it was a yummy beating.
The fillings were great with the chicken, with some slight differences from the menu.  The cheese was mozzarella, which you can see melted nicely in the picture above.  I would have preferred a stronger cheese to stand up to the meat and guacamole, but the mozzarella was good.  They also used whole beans rather than refried beans, which I preferred.  The sandwich was only a little spicy.  Next time I should ask for hot sauce.
Today's Lunch gets an 8.25 out of 10.  This cemita was a thick, delicious sandwich, but the truck needs to get a little more organized.  I thought the errors might be because of their weak English, but the guy who only got 1 lunch instead of 4 ordered in Spanish, so that wasn't a factor in his mistake.
Tri Mexican Tacos is pretty good, with the potential to be great.  Let's see how they fare over the next few months.