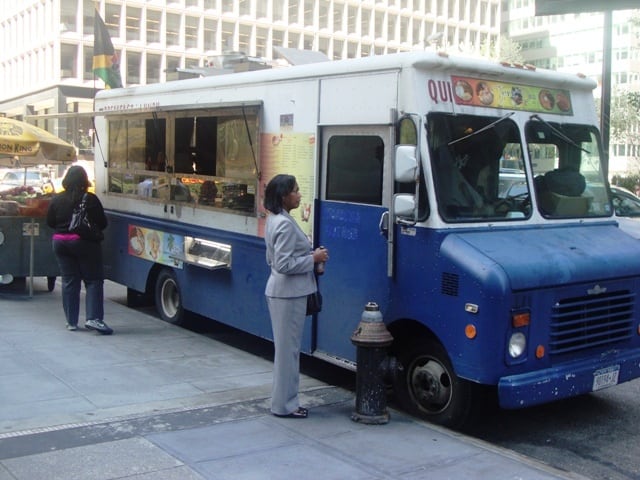 abulous Friday! Perfect for enjoying some great New York Street Food from the vendors on the right and the trucks below.  Nearly everyone is out on the street today, so why not try a new street vendor for lunch.  There are plenty to choose from.
We've heard about a lot of film shoots recently, so make sure you check the pink Mobile Munchies twitter feed on our homepage before heading out in case someone had to move at the last minute.
BistroTruck – TGIF everybody. Special: Couscous Royal ( lamb, chicken, merguez & veggies over couscous & side of salad)
schnitzeltruck – Mornin midtown east. 52nd & lex wants something schnitztastic 4 lunch? u're in luck, cuz that's where schnitz slinging will occur @ 11:30:)
nyccravings – waiting for a parking spot on Hudson & King. Should be ready by 11:30!
qbacubankitchen – Hola nyc. We had requests to park near colombus circle. We'll try today! Stay tuned! Gracias!
CupcakeStop – CupcakeStop trucks in position on 99th and Madison and 6th and 15th!
RickshawTruck – Amazing Friday Weather. Chelsea: 15th + 9av and also today at Midtown: 45th + 6av. There is a special on board Chelsea. 11-3p
EddiesPizzaNY – Flatiron Fridays! We are on Park btwn 26th and 27th until 3pm! Last chance to order a bar pie w/vodka sauce! call ahead 9174397522
fritesnmeats – Howdy Midtown West! Aint no little kerfuffle gonna keep us away from showering you with Burger Love! We're on corner of 52nd St & 6th Ave. Give a call, swing by, pick up & be on ur way. 9172929226
StreetSweets – Gd morning. we r on Hudson St. btw King & W.Houston than @ 12p until 4p we will b on Park Av btw 52 st & 53 st on the east side of Park Av.
TheTreatsTruck – Open early! Here at 45th and 6th ave 'til 3:30, then 4-6 at 5th ave btwn 21st and 22nd!
qbacubankitchen – In midtown looking for spot! Ropa Vieja special today! Lechon is rockin too!
GOBurger – Today at seaport pier 17 see you there.
waffletruck – Happy Fantastical Friday! We're on 52 btwn 6 & 7 til 4:30pm. Sing 10 seconds of your favorite song for 1 free dinges today. Riverside Parkians, up & running at the bottom of the 68th St stairs since 8am, till 10pm. Also Seaport @ corner Fulton & Front.
joyridetruckJoyride is on its way to Hudson b/t King & Charlton. TriBeCa we're making up 4 Wed. Caffeinated froyo? Oh that's right TriBeCa! It's deliciously tart and called buzzed.
quickstopkosher – Today we here in hanover sq between Pearl and water. Until 3pm For all of those who in a rush we have falafel express line
VLAIC – 5th&23rd, 5th&15th, till 5pm
GuerrillaIC – At @TheBurgerShoppe today from 12-4. Specials for Sat & Sun are Raspberry, Hibiscus, Lavender & Rose Sorbet and Sticky Rice Ice Cream.
Hoboken/Jersey City
VeganLunchTruck – Parked on Sinatra between 1st and 2nd. Open 9:00-3:00. Swing by for this weeks banging special!
laspicetruck – Be Back monday! Have a great weekend JC