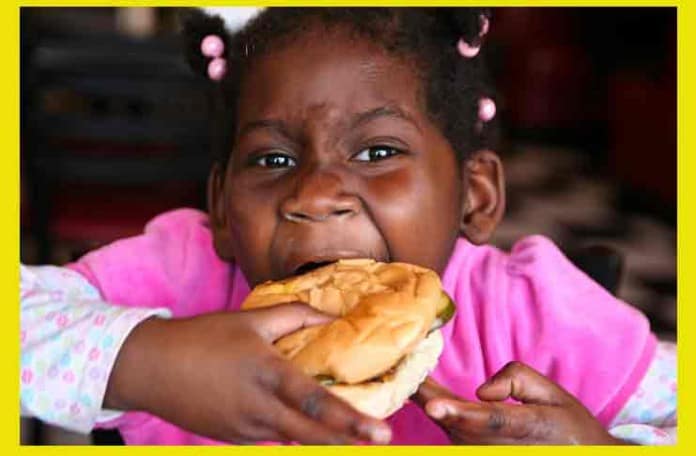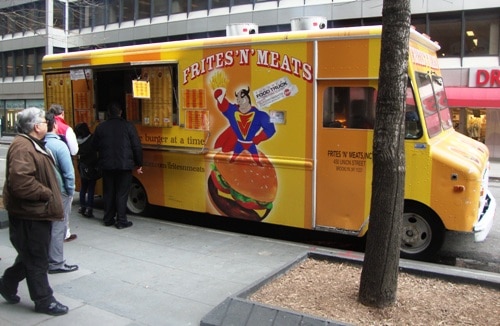 For some reason, I had a hankering today for a blue cheese burger.  Luckily, Frites 'N' Meats was not too far away, so I headed over there.  It must be my lucky day, because the line wasn't bad either.
Today's Lunch is a blue cheese burger with onion jam ($7) and an order of hand-cut fries ($3) from Frites 'N' Meats.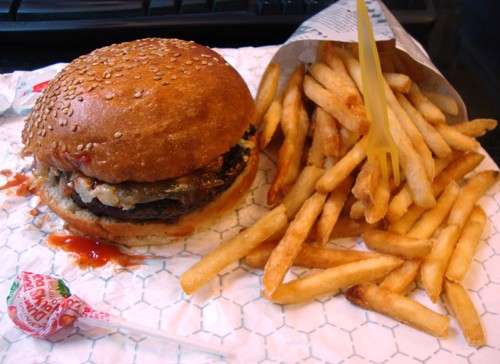 For those of you not familiar with F'N"M, first you choose your beef (Angus-$5.50 or Wagyu-$7.50), then your bun (brioche, sesame seed or potato-onion), then your cheese ($.75 for gruyere, goat, cheddar, blue or brie), then your toppings.  Raw onion, tomato and mesclun greens are free, and there are a bunch of more ambitious toppings for $.75 each such as applewood smoked bacon, onion jam and guacamole.
One of my favorite things about Frites 'N' Meats is they source most of their main ingredients locally, meaning the meat (DeBragga & Spitler), cheese (Murray's) and buns (Balthazar Bakery) all come from NYC purveyors.
I got an Angus beef patty with blue cheese and onion jam on a sesame seed bun, which totaled $7.  I don't usually get fries because it's a lot of food for lunch with the burger, but it's been a while since I've had their fries, and I was pretty hungry.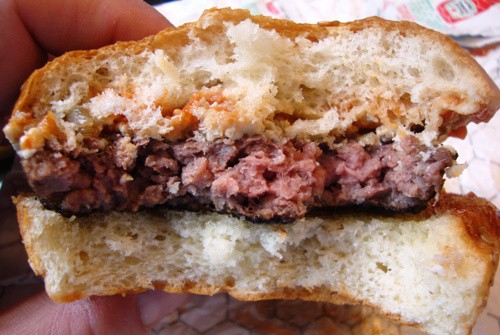 The burger was not one of those 1/2 pound monster burgers some places sell, but it was a good, medium-sized burger.  The outside of the burger was well done, the inside was pink, and it had a nice smoky flavor from the grilling.
The blue cheese flavor came through just fine, but the onion jam was more difficult to detect.  The bun was soft and tasty, although it was a little bit larger than the burger, and the first bite was a little too bready.  On the second bite I got into the meat and toppings, and it was a tasty burger.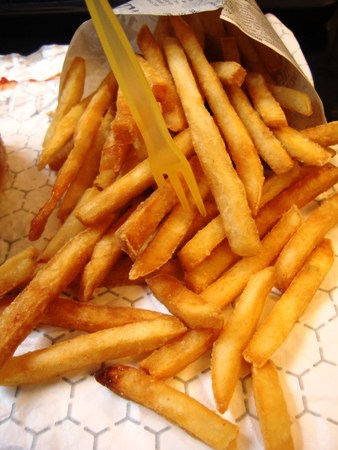 The fries are definitely a high point of the lunch.  They are crispy on the outside, soft on the inside, and lightly salted.  IMHO, these are some of the best fries I've had for lunch in quite a while.  I hate it when fries are soft or soggy, but they shouldn't be too overdone either.  These fries inhabited that middle ground perfectly.
I also love the free Dum Dum lollipop they give everyone for dessert.  This time I got mango. Yum Yum.
You can view the Frites 'N' Meats menu here and follow them on twitter here.