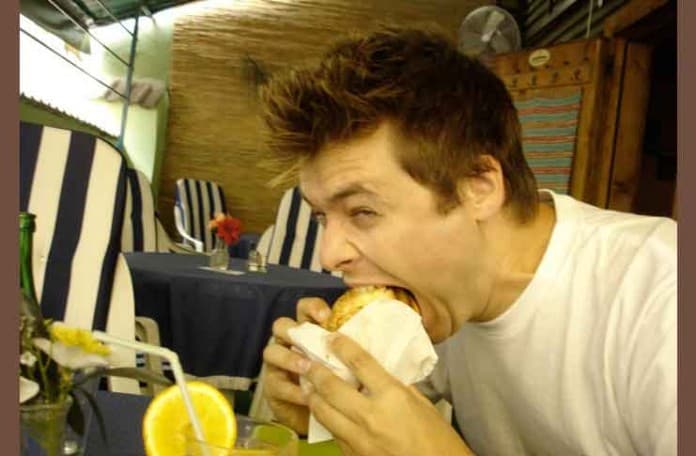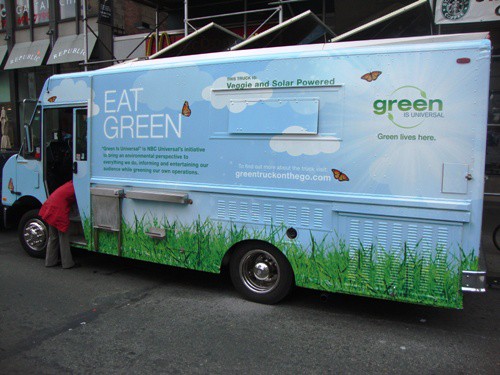 As we mentioned yesterday, the Green Truck was hired by NBC as part of their 4th Annual Green Week initiative to give out free veggie burgers and iced tea around town all week.  For the uninitiated, the Green Truck calls their veggie burgers "Mother Truckers", although the menu says Veggie Burger.
Due to a confluence of events, this is Burger Week on New York Street Food, with Carnegie John's cheeseburger for lunch on Monday and Frites 'N' Meats "Bite Back" burger for lunch on Tuesday.  If there is any other place you would like us to try for Burger Week, please email perry@newyorkstreetfood.com with your suggestions.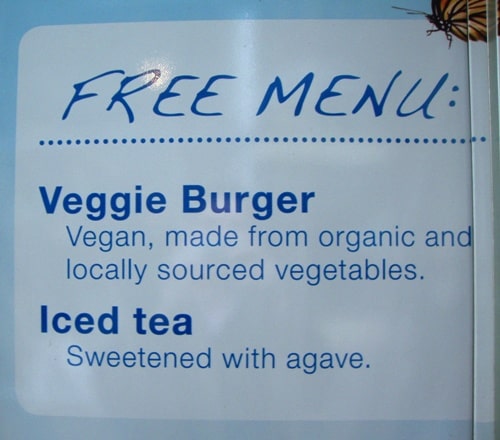 Today's Lunch is a Mother Trucker and an iced tea (both free).  I'm pretty much a hardcore carnivore, but am willing to put my principles aside for a free meal!  Will the Mother Trucker be worth selling out my carnivorious principles for?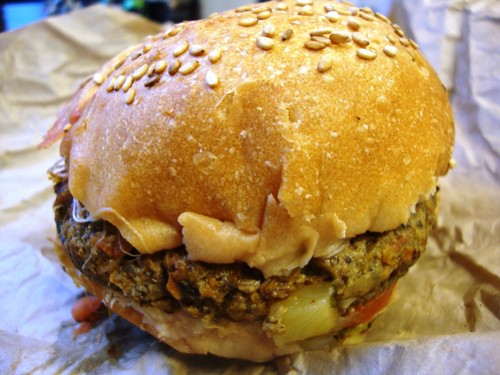 When I got back to the office and unwrapped the veggie burger, there was a nice looking burger on a sesame seed bun.  It was topped with pieces of tomato, alfalfa sprouts, onions, and a special sauce that I would describe as a tomato-ey Thousand Island dressing.  I'm also not usually much for tomato, but since it was such an integral part of the burger, I decided to leave it on.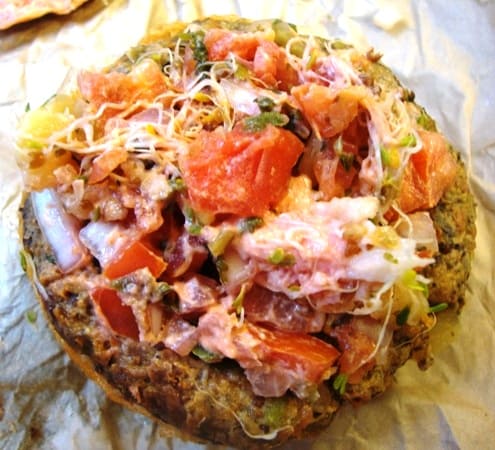 And I'm glad I did!  I don't know if my tastes are changing, or if these tomatoes were better than at other places, but I actually enjoyed these tomatoes (which is a first for me).  Even though I don't eat a lot of veggies, I always did like alfalfa sprouts, and these were also good on the burger.
The burger itself was a revelation.  The few veggie burgers I've tried in the past had more of a similarity to cardboard than to burgers.  Not the case here.  The Mother Trucker was soft, moist and flavorful.  It was a bit herby, and even had a small kick of spiciness to it, which the sweetness of the tomatoes balanced off well.
The iced tea was really good too.  We have been making our own iced tea at home for years using various types of tea from Porto Rico and sweetening it with honey.  My kids like it so much, we rarely buy soda.  This iced tea was of the same quality.  Mitchell told me it was  peppermint rose iced tea sweetened with agave.  Excellent job on the iced tea!  Light and flavorful, but  not too sweet.
I was a little surprised the iced tea was served in what appeared to be a plastic cup, with a lid and straw – but upon closer inspection, they were Greenware, which is actually made from plants, not petroleum.  Gotta keep that green theme going if we want the planet to still be here for our kids and grandkids.
The Mother Trucker is certainly worth the money when it's free, but I would also recommend it for a regular lunch, especially if you tend to like vegetarian fare.  But to paraphrase the old Levy's Jewish Rye Bread commercial – "You don't have to be a vegetarian to love a Mother Trucker."
To find out where the Green Truck will be the rest of the week, you can follow them on twitter here or on our Mobile Munchies twitter feed.