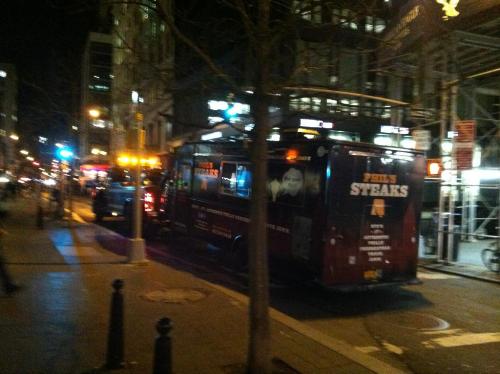 It's been pretty quiet on the police front this winter for our favorite NYC food trucks – but the popo came a callin' on Phil's Steaks last night.
Late in the afternoon, Phil's tweeted they were going to be on Union Sq West late lunch and dinner.
A few hours later, Phil's tweeted: "If you see the jawn getting towed, that's because it is! If the tow pound guys wanted free steaks all they had to do was ask. C U 2morro NYC.
Anybody who thinks having a food truck is easy or a quick ticket to success, getting towed will wipe out a day's profits very quickly.
After all the great work NYC food trucks did helping feed victims of Hurricane Sandy, it would seem like an opportune time for the NYC Food Trucks Association to push forward with discussions with the Mayor's Office about how to work food trucks into the legal fabric of NYC.
Thanks to Street Grub Steve for the photo above.