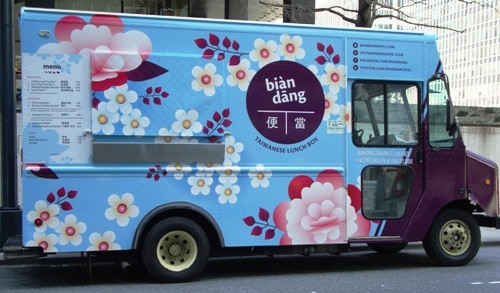 Ever had Taiwanese Pork Chops? Well, we had, at one of the pioneers of the NYC street food scene, Bian Dang. This brother and sister team started out as NYC Cravings, the name under which they were rewarded with a Rookie of the Year Vendy Award nomination in 2009.
The 2009 Vendy Awards is where we tried NYC Cravings for the first time. The name of the truck was later changed to Bian Dang, which means "lunch box" in Mandarin.
Due to serious mechanical issues, then the storm(s), the Bian Dang truck was off the road for nearly a month. We stopped by recently to welcome them back, and to get an order of Taiwanese pork chops for $7. We had this dish once before, about 2 years ago, but when we're in the mood for something, it's tough to go elsewhere.
We usually enjoy the appetizers at Bian Dang, with dumplings, steamed buns, tea eggs and zongzi, which they call Chinese tamales. Unfortunately, they had just sold the last tea egg, and were out of all the dumplings and buns. The only appetizer they still had was peanuts and anchovies for $3, which sounded like a pretty funky combo. Was it time to take one for the team? Click through to find out.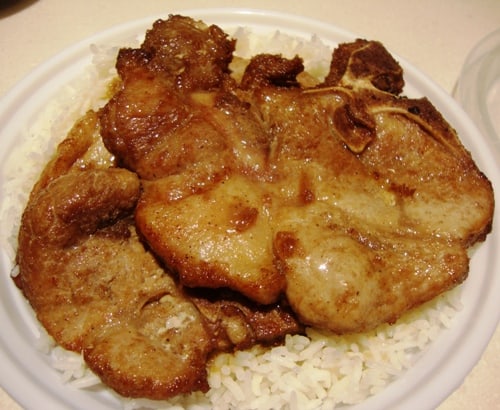 We had their Taiwanese Pork Chops once before, a couple of years ago, and remembered them being pretty good. With that memory fresh in our minds, we opened up the peanuts and anchovies and looked inside.
Interestingly enough, the inside of the container was looking back at us too. The anchovies were served whole! This meant head and all, with a few eyes peeking out at us from the plastic bowl.
The anchovies and peanuts were served cold, which was another surprise, but the fish were crispy like a snack. They weren't as fishy tasting as expected, and with the peanuts, this would be a good snack with a cold beer. Too bad they can't serve beer on the truck.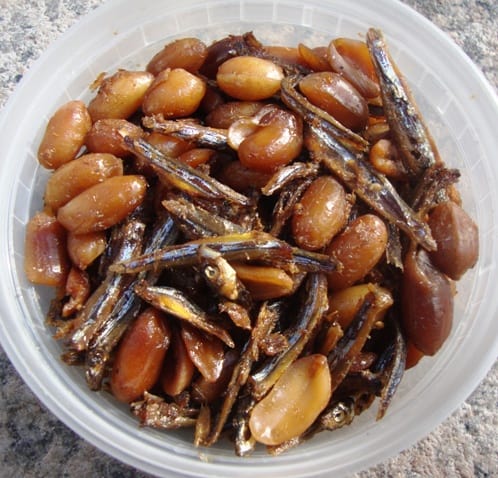 You may ask, what makes their pork chops Taiwanese? The first thing is the taste of Chinese 5-spice powder, which came through right away. It was fragrant and delicious.
The second thing is the chops were served on top of Bian Dang's pork sauce and mustard greens. You can't see it in the photo, but between the chops and rice is a layer of their great pork sauce and chopped mustard greens.
It was a little tricky cutting the chops with plastic cutlery, but definitely worth the effort. The pork was infused with 5-spice powder and other spices, giving it a wonderful flavor. A little soy sauce and sriracha, and we're good to go. With two chops, this lunch was a meat lovers paradise.
Bian Dang makes the rounds of various neighborhoods, so check their Twitter here or our Mobile Munchies Twitter feed to find out where they are each weekday.