A couple of months ago, we ran across a Middle Eastern food truck on Park Ave called Bread & Olives. Our First Look was underwhelming, but the owner wrote us after the review was posted, and he explained why things were off that day. Hey, we're always willing to give someone a second chance.
Last week Bread & Olives were on 46th St east of 6th Ave, and we went back for a 2nd visit. This time we got the shekaf platter, which are cubes of lamb, for $9.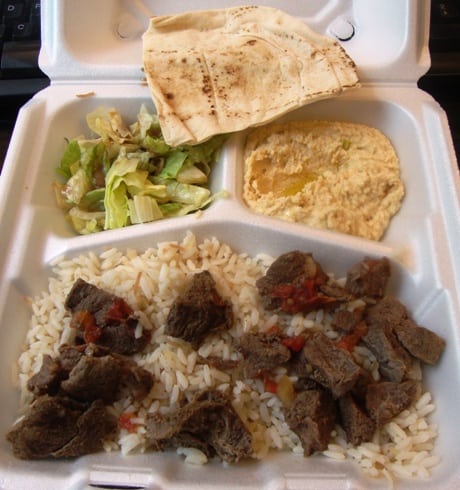 Opening up the container, one thing was immediatley different. This was not the "lamb" served by most Middle Eastern street food vendors. This was real lamb, not that processed stuff sliced off meat cones.
The lamb was cooked with a few tomatoes. There wasn't a huge amount of meat, but there was enough, and it was the real thing.
Some of the pieces of lamb were chewy, but others were fine. Lamb can be like that.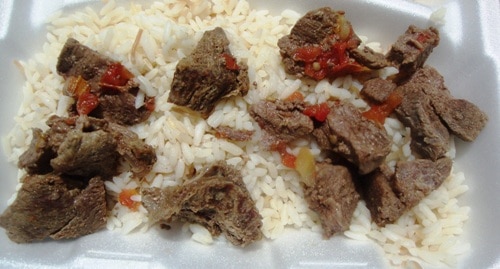 We got white sauce and hot sauce on the side, and the lamb was bette when dipped into the sauces. The white sauce was mayo-based, but ok, and the hot sauce had a decent amount of heat.
The rice was fluffy and pretty good. Like a couple of other Middle Eastern vendors, they serve the rice with a little vermicelli mixed in.
Last time at Bread & Olives, we had a problem with the hummus. It was grainy and coarse, and the owner told us why. They had run out, and the new batch didn't have a chance to sit for 24 hours before being served.
This time the hummus was much better. It was lemony, and much smoother. They also included a quarter of pita to scoop up the hummus.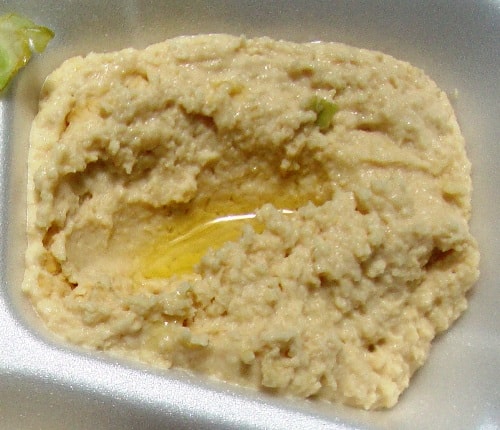 We haven't been able to find a website, twitter account or facebook page for Bread & Olives, but they seem to park in some of the regular foodt ruck spots, like Park & 47th and 46th & 6th.