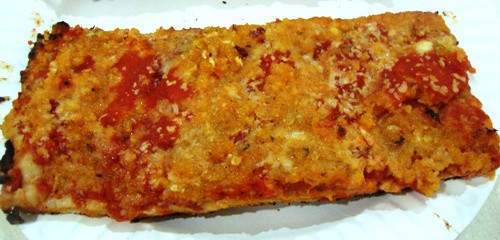 After reading about the freebies being given away for Italian Week, we thought a few zeppoles might be in our future. Valducci's was giving them away with the purchase of a slice to celebrate Italian Week.
They also had a second promotion going on for Italian Week to buy any slice, and get a regular slice for free. This caused a little confusion with our order.
We haven't tried Valducci's pizza oreganata yet, so we ordered a slice for $4. Unbeknownst to us, the woman also tossed in a free regular slice for us. She didn't seem to know about the zeppole tweet we saw that morning, and said we would have to pay for the zeppoles.
When we said we wanted the free zeppoles instead of the free slice, the owner Mike, came over and told her to give me the zeppoles too.
Not positive, but we think Mike might have remembered us from when the truck first opened back in May 2011. That day he told us all about Valducci's history, both on Staten Island and by Wall St. We try to stay anonymous, but it's not always possible.
We're not Italian, but any true New Yorker knows about zeppoles, and we weren't about to let these babies get away.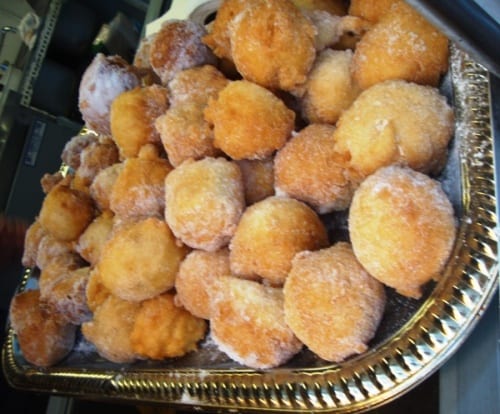 All of Valducci's pizza is Sicilian-style, square with a thick crust. We've always enjoyed clams oreganata, so we had an idea what to expect from pizza oreganata. A toasted bread crumb topping will never be turned away from our lips.
The oreganata slice was topped with seasoned bread crumbs, and a little parsley, garlic and parmesan cheese.
This was a tasty slice, with a crunchy crust, really good tomato sauce, and the oreganata topping.
Since we ended up with a regular slice too, that was up next before dessert. The regular slice is simply a thick crust of pizza dough, tomato sauce, and some sprinkles of parmesan cheese. You won't find any mozzarella on these pizza slices.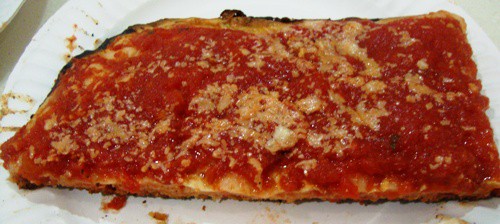 If you like tomato sauce, Valducci's regular slice is where it really shines. There are no toppings like bread crumbs, eggplant or pepperoni to hide under. The tomato sauce is front and center, and that's a good thing.
We're so used to tons of lightly-singed mozzarella on pizza that a regular Valducci's slice is not the prettiest slice to look at – but if you like a good tomato sauce, check it out.
As for the zeppoles, they lived up to the hype. You would think that deep-fried dough dipped in powdered sugar couldn't be messed up, and you're probably right about that.
But there's a difference between good and very good. These zeppoles were very good. Light and airy, but crispy and sweet outside. Glad we stopped by.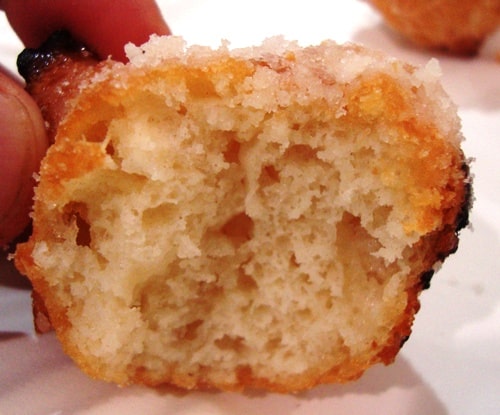 Valducci's can be found on twitter here or on 0ur Mobile Munchies twitter feed.
Judging from the number of people stopping by in the 5 minutes we were there, Valducci's seems to have earned a following. Good for them.