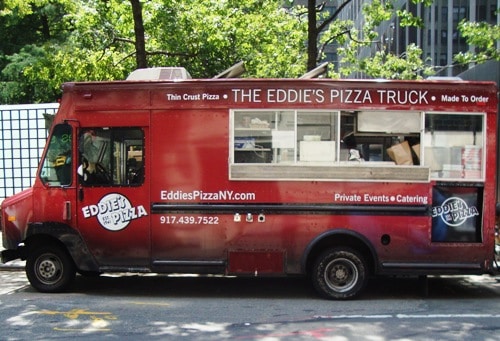 We've been to Eddie's Pizza Truck a number of times over the years and enjoyed their pizza, as well as hot and cold sandwiches. But it's been quite a while since our last visit, and it was time to check in.
One thing we didn't notice in the past was their Lunch Special for $10. You get a personal 10″ pizza with 1 topping, a side dish and a drink. Considering most of Eddie's personal pizzas are $11.50, that's a good deal.
We ordered the pie with chicken cutlet on top, and cookies for the side dish. Yes, chocolate chip cookies are technically a dessert, but instead of cheesy garlic bread or a salad, we opted for dessert.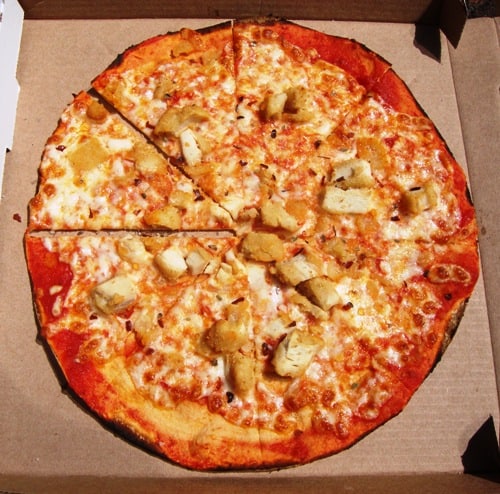 Eddie's pizzas are very thin-crusted. In the world of thick NYC crusts, that's a change of pace. We generally prefer thick crusts, but it's nice to change things up once in a while.
Unlike Valducci's yesterday, Eddie's Pizza Truck had the usual pizzeria shakers on the truck's serving shelf for you to help yourself.
There was grated parmesan, hot pepper flakes, garlic powder and oregano. We may take these for granted, but you miss them when they're gone.
The breaded chicken cutlet pieces were tasty on the pizza, and there was enough mozzarella cheese and sauce to satisfy.
The crust did get pretty crisp towards the end of the meal, when the pizza started to cool off. Other than that, lunch was good.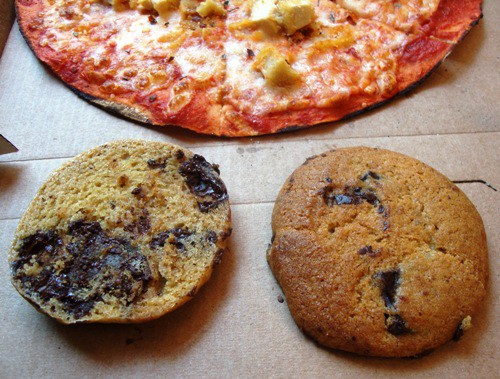 We made a good decision on the chocolate chip cookies. There were 2 decent-sized cookies, and they had plenty of chips and a nice flavor in the dough. We flipped over one of the cookies so you could see the amount of chocolate that did not show up in the top of the cookie.
Eddie's Pizza Truck has a fairly set schedule in terms of where they park each day. There are always variations from film shoots and the like, so double-check on twitter here or on our Mobile Munchies twitter feed.