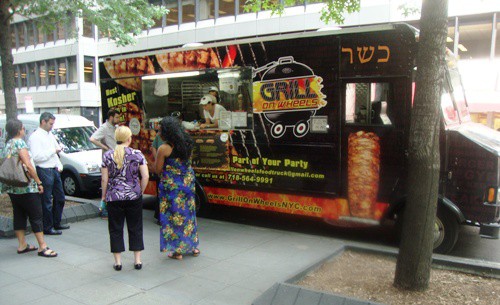 Feel like Honey BBQ Chicken? Last month we checked out Grill On Wheels, a new kosher food truck, for the first time. The biggest problem people seemed to be having was the wait, with only 2 people working in the truck, and 1/2 hour wait for food.
Going back to the truck yesterday, it was clear they tackled this problem head-on. Not only were 3 people working in the truck, but there was a friendly young woman outside the truck taking orders. It wasn't more than about 5 minutes from walking up to the truck to walking away with lunch.
For lunch yesterday, we wanted to try one of their schnitzel sandwiches, of which there were 3 choices. We asked the woman taking orders which her favorite one was, and she answered Honey BBQ. That's what we ordered for $10.50.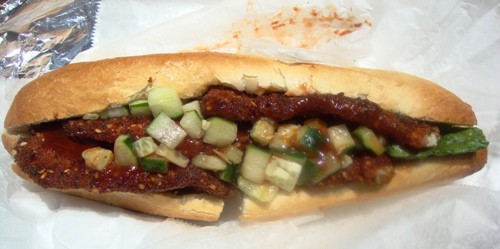 Unwrapping the baguette, it was stuffed pretty good with chicken schnitzel. The cutlets were fried to a deep brown, but the chicken was not overcooked. With several pieces of schnitzel in the sandwich, each bite was mainly chicken. A good start.
In addition to the cutlets, the chicken schnitzel sandwiches come with lettuce, tomato (which we declined), cucumbers and pickles. We're big fans of pickles on sandwiches, and they added a vinegary edge to the breaded chicken cutlets. The pickles also went well with the sweetness of the honey bbq sauce.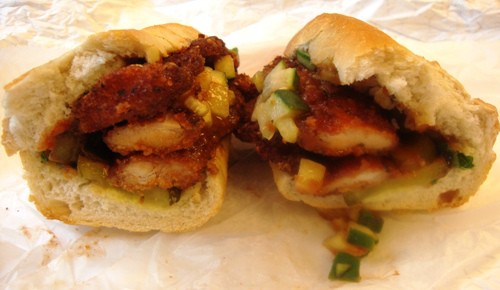 We could taste the honey in the bbq sauce, and they didn't drown the cutlets in bbq sauce, which was nice. The sauce was used as a condiment, not to cover anything up.
Our second visit to Grill On Wheels certainly went smoother than the first one. Paying $10.50 for a chicken schnitzel sandwich is a bit on the high side, but kosher food is always more expensive than non-kosher food.
You can find Grill On Wheels on twitter here or on our Mobile Munchies twitter feed. For even more information, their facebook is here, and their website is here.