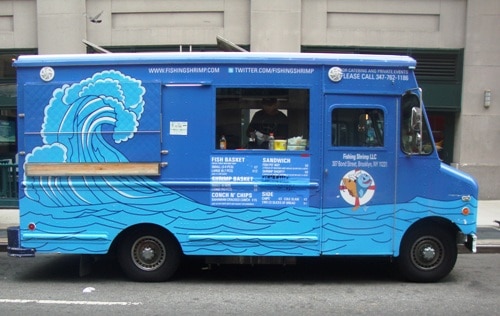 I personally love Fish Po Boy. One of the things I enjoy having for lunch is seafood. It's one of my favorite foods, but I'm the only one in my house who likes it, so I never have it for dinner.
A good way to have seafood for lunch is the Fishing Shrimp truck. They hit the street last October, and usually park in one of several different neighborhoods in Brooklyn and Manhattan.
We haven't been to the truck in a while, and lucky us, there were a couple of new items on the menu. The Fish Po Boy was looking straight at us for $8. With any platter or sandwich, you can get a side order of chips (fries) for an extra $1 like I did, or you can get a larger order for $3.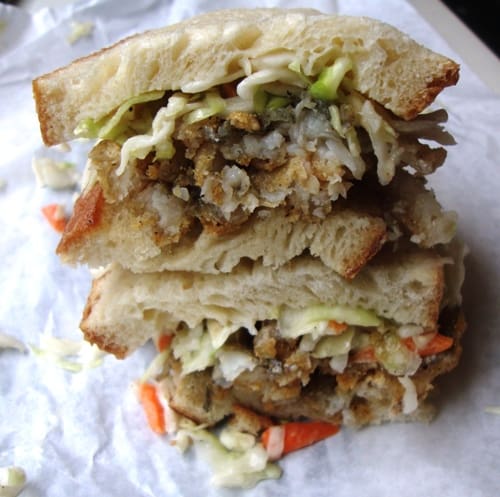 The Fish Po Boy is 3 pieces of fried whiting with house cole slaw in a sandwich.
On the first bite, there was a nice crunch from the breading, the taste of fresh fish, and more crunch from the cole slaw. The breading was nice and crunchy, but not heavily spiced at all.
The stacking of 3 fillets meant that every bite was loaded with fried fish. The cole slaw wasn't vinegary, and not only added texture, but was a touch sweet. Did the slaw include a little bit o' honey?
I was expecting the Fish Po Boy to be on a hero, but it came on 2 pieces of large, soft, fluffy bread.
The only mistake I made was not asking for hot sauce. I fully enjoyed the sandwich, but hot sauce would have made it even better.
The chips were a nice surprise. Last time I went there, the chips were soft and limp. This time they were thin and crisp with just the right amount of salt (not too much, but enough to taste). Definitely an improvement over last time.
The Fishing Shrimp truck moves around, so find them on Twitter here or on our Mobile Munchies Twitter feed.
We would recommend their fried shrimp too.