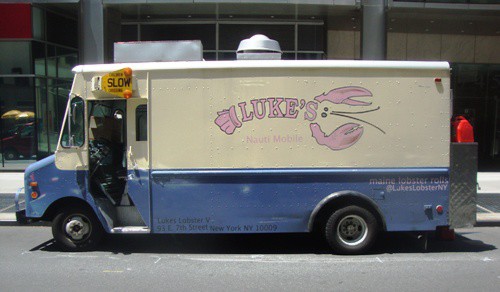 The last time we went to Luke's Lobster truck,  it was the middle of winter, and we had a shrimp roll and clam chowder to warm up.  Now in the middle of summer, we needed something to cool us off.
Since we had a shrimp roll last time, and lobster rolls are more common than ever around these parts, so we went for a crab roll. This cost $11, which is $1 more than when we were at the truck in February. The lobster roll for $15 and shrimp roll for $8 were unchanged in price.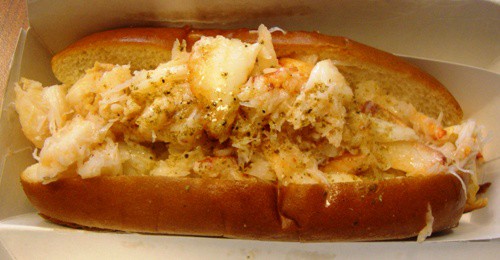 Similar to their other rolls, Luke's starts with a toasted, very buttery top-sliced roll. Into the roll goes basically crab meat and very little else.
There's a tiny bit of mayo and some celery salt lightly sprinkled on top, but neither distracts from the abundance of sweet, juicy crab meat in the roll. That's the main attraction, and it doesn't disappoint.
In fact, the extreme butteriness  of the roll was the perfect accompaniment for loads of crab meat, not-so-subtly adding to the flavor of the crab. (Lunch was so tasty, I don't care whether butteriness is a word or not.)
While I have always enjoyed crab meat, it usually involves way too much work to be worthwhile, unless of course you have Alaskan king crab legs.  Other than those, the work-to-payoff ratio for crab is usually too high for me. But now Luke's does all the work for you, and you have all the fun.
This may not be the biggest lunch around, but it was delicious. I'm not sure if one crab roll will hold me until dinner, but for $2, you can get chips and a drink to supplement any roll.
You can find Luke's Lobster on  Twitter here or on our Mobile Munchies Twitter feed.  They also have several storefronts in NYC and one in Washington DC, if you prefer.