(credit: NYSF)
The best way to get us to your food truck or cart is to offer some new menu items. After nearly 4 years of eating lunch on the street just about every weekday, we've covered most of the basic menus.
In terms of new items, two particular things catch our attention – seafood and anything made in the buffalo style (hot sauce & blue cheese, mmm!).
We've covered Mike "N" Willies regular menu, but this week they started offering cod fritters. They cost $3 for 3 or $5 for 6.
Mike also told us about some of the events they are doing, such as the upcoming Afro Punk Fest (with 25 other food trucks!) in couple of weeks.
He also mentioned another new menu item coming up next week, but you have to read to the end to find out more.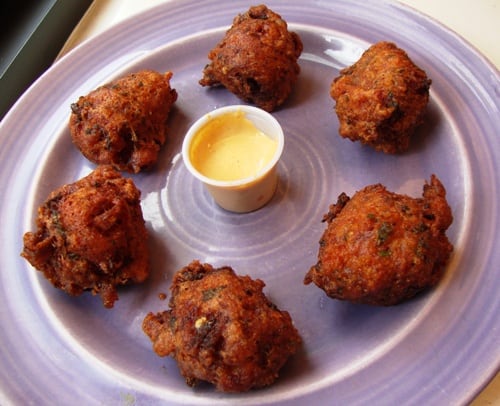 The cod fritters were decent size, each a little larger than a golf ball.
We expect cod fritters to be a light brown, but these were more of an orange. That was probably from the red pepper mixed into the batter, which we could see and taste.
In addition to pieces of cod, which were evident, there were chives and tiny pieces of red pepper.
There must have been cayenne or something similar in the batter, because these fritters had a spicy little kick. For even more of a kick, we dipped the cod fritters into the chipotle mayo that came with lunch.
About the only downside was the amount of oil coming off the fritters. It's tough to deep-fry and not leave any oil in the food, but these needed to be drained a bit longer.
They also sell Jarritos at the truck, and a bottle of tamarindo was a nice addition to lunch.
You can find Mike 'N' Willies on twitter here or on our Mobile Munchies twitter feed.
Mike told us that next week, they will start serving burritos on the truck. A Big Bad Brisket Burrito sounds just like what what the doctor ordered. My doctor, at least.