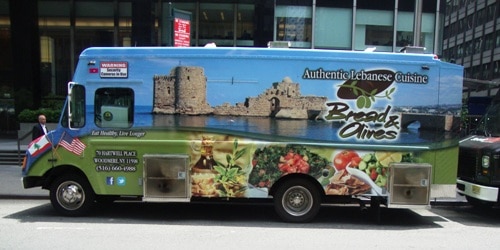 Feel like Chicken Shish Tawouk? We went over to midtown's Food Truck Central last Thursday for lunch. Food Truck Central is not an official designation, but on 47th St between Madison & Park, on Park Ave between 47th & 48th St, and across Park Ave towards Lexington, there were about 10 food trucks. That doesn't even count the Mister Softee and Frozen Yogurt trucks.
On Park Ave by 47th St was a new food truck we had not seen before called Bread & Olives. They describe their food as Authentic Lebanese Cuisine, with falafel, shawarma, hummus and the like as their mainstays. After eating lunch, we had some correspondence with Janah, the chef and owner (?).
We ordered chicken shish tawouk in a deluxe platter, which comes with fries and hummus for $7. You can also get it over rice for the same price, or in a sandwich for a buck less.
Upon ordering our lunch (at 1:10), we were told they had no more fries, and the chicken would be over rice. Sure, no problem.
We were luckier than the guy behind us, who was told they were out of rice. Guess we got the last order of rice.
Chicken shish tawouk is described on the menu as grilled cubes of marinated chicken brests (sic). The "shish" was misleading, because it wasn't grilled chicken shish kebab as we expected. Janah told us after the chicken is cooked, it is dipped in tawouk sauce.
Instead is was cubes of chicken kept in what can best be described as a steam tray, with a saucy broth keeping the chicken moist. However Janah told us he cooks the chicken in the truck every morning around 11am, and when it sells out by 1:30 or so, there is no more. That's how they ensure the chicken is fresh.
They also do the "white sauce/hot sauce" thing that all the halal carts do. The chicken and rice were a step up from the standard halal cart chicken over rice, which is a good thing, because it was $2 more than the standard halal cart.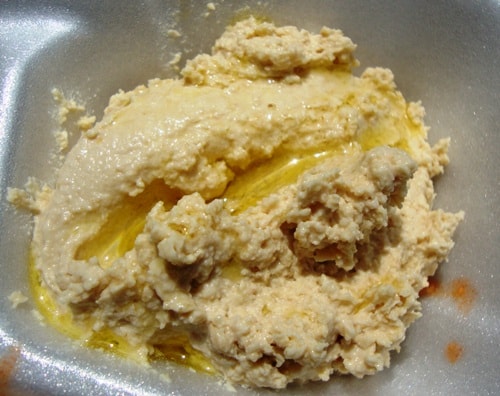 The hummus on the other hand was not so great. It was not smooth and creamy, as the best hummus is. The hummus at Bread & Olives was nice and lemony, but it was grainy and coarse. The hummus would have benefitted from some pita bread to dip into it. Unfortunately, they ran out of pita bread too before we got there.
Janah told us his hummus was coarse that day because he made it at 6am that morning. Normally he makes it the day beforeso it can sit in the fridge for 24 hours before serving. He made it that morning because he had run out the day before.
We'll wait to see what the hummus is like next time we go there before passing judgement. This food truck has only been around for a few weeks, so we'll give them another try soon.
We asked Janah if they were affiliated with the recently closed Bread & Olive restaurant in midtown, but he told us they were not.  He has a restaurant in Lebanon called Bread & Olives.
We do want to try Bread & Olive again because the chicken shawarma looked pretty good. You could see it roasting on a spit, and if they carve it off as ordered, it has a shot at becoming a recommended dish.
They don't have a website or twitter account, but Janah told us they are in the process of putting together a facebook page. Otherwise, find them at 47th & Park weekdays for lunch.