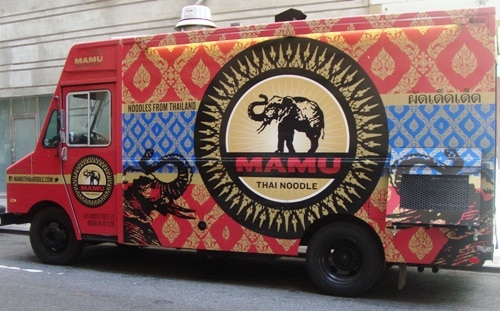 We definitely felt like Chicken Pad Thai. So, one of the newest food trucks to hit our streets is the Mamu Thai Noodle Truck. As we told you previously, the owner, Siwat Thitiwatana, got the urge to serve Thai noodles here in his native NYC after visiting family in Thailand, where his uncle owns 3 noodle shops.
We visited them once before and had pad siew. We recently made a return visit. The menu started small, and has been slowly growing in size as they introduce new menu items. We went for chicken pad thai for $8 and an order of curry puffs for $6.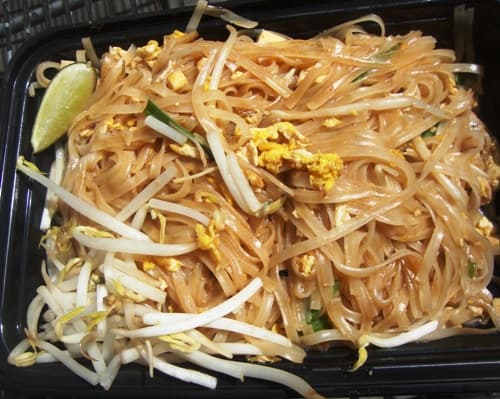 There are 4 people working on the truck, so while Siwat mans the wok, everything else is assembled fairly quickly.
An order of curry puffs included 2 of them. From the outside, they could best be described as Thai empanadas. A golden, flaky crust contained a filling of curried potatoes. There was actually a slight sweetness to the potato filling, and the curry flavor was good.
There were two issues we had with the curry puffs, and neither had to do with taste. The insides were cold, which we assume was not the intention.
The other issue is we would like to be able to buy one instead of having to buy two. A $3 curry puff appetizer goes great with a $7-9 noodle dish, but two of them is a) too much to eat, and b) more than we want to spend for lunch. Are you listening Siwat?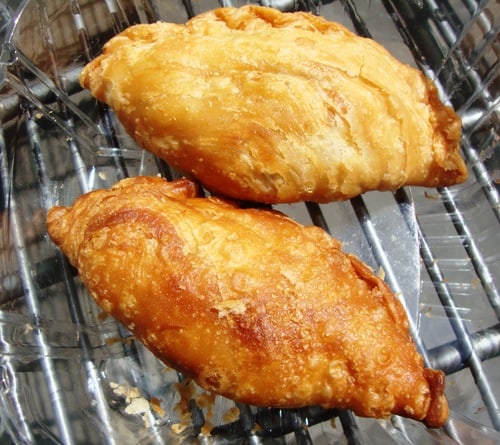 Moving on to the Chicken Pad Thai, there was no doubt this dish was hot, with steam rising as we took off the container's lid. In addition to the noodles, there were scallions, little squares of tofu, egg, bean sprouts and a wedge of lime, which we immediately squeezed onto the pad thai.
This was one delicious dish! The noodles were soft and firm at the same time, which sounds like an oxymoron, but wasn't in this case.
Just about every bite of noodles, of which there were plenty, had either egg, chicken, tofu or scallions. One thing there was not much of was peanuts, which some chefs use a lot of in their pad thai.
There was a light sauce on the dish that was probably made with a rice wine base, but Siwat would never divulge his secrets. Who cares, as long as we get to enjoy the fruits of his labor.
Mamu has been spending most of its time in a few different areas Brooklyn serving lunch and dinner. They've also been dipping their toe into Manhattan, parking at 27th & Madison for one lunch a week. Hopefully their time in Manhattan will increase.
You can find the Mamu Thai Noodle Truck on Twitter here or on our Mobile Munchies Twitter feed.
Next up, Drunken Noodles!