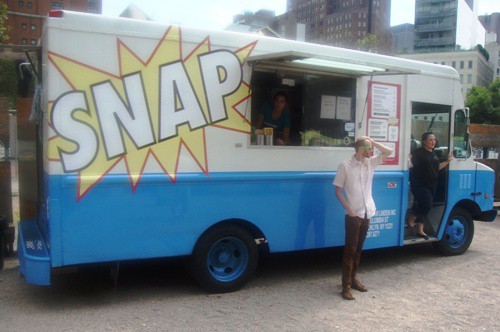 We've been on a little bit of a vegetarian kick lately. After enjoying the Cinnamon Snail's offerings last month at the 2012 Vendy Awards  (where they won the People's Choice Award), we've been checking out vegetarian fare more often.
We're not sure if more street vendors now have veggie options, or if we just didn't notice them before. Either way, it's probably healthier than eating meat every day for lunch (and usually dinner).
One of the more unusual vegetarian dishes around is the Chicavocado Dog from Snap!, which costs $5.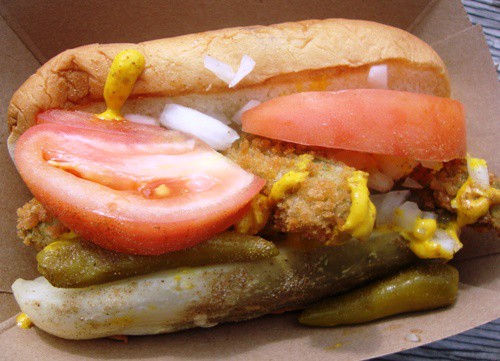 Snap! is known for a few things, but their two most popular items are probably the Chicago Dog and Avocado Fries. The Chicavocado Dog is a combination of the two.
Instead of a hot dog on a bun, Snap! uses their patented (?) panko-crusted avocado wedges as a base on which to pile all the Chicago Dog toppings. And when we say pile on, we mean it!
Sweet relish, chopped onions, a pickle spear, two tomato wedges, two sport peppers, yellow mustard, and a dash of celery salt. That's the Chicago way.
We usually have our dogs with only mustard and relish, but this was an interesting explosion of flavors. The avocado wedges had enough heft to stand up to all the toppings, and each bite had a different focus.
Some bites were more mustardy, some were more pickle-y, some were more peppery, and some had creamy avocado with a panko crust. Those were even better with mustard. The Chicavocado Dog certainly had a lot of tastes.
The Snap! truck doesn't currently serve on the street, but they are at the Hudson Square and LIC Food Truck Lots a few days a week, and at a  new food truck lot in Williamsburg.
Check their Twitter here or our Mobile Munchies twitter feed to find the Snap! truck.
You might want to check out their Belgian fries too.