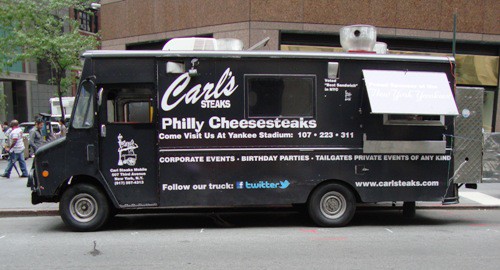 The latest Philly cheesesteak truck to come on the NYC scene is Carl's Steaks. As we previously told you, they are no strangers to NYC, with 3 stands at the quintessential NYC landmark, Yankee Stadium.
When Carl's first hit the street, we tried a regular cheesesteak and a chicken cheesesteak.
Both were pretty good, but now it was time to try "The Works", which cost $11.50 for a full-sized 10″ hero or $8.50 for a 6″ hero.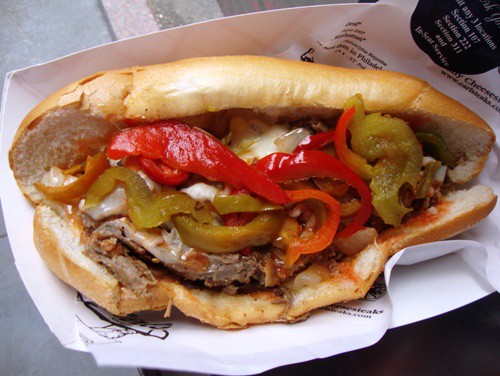 It's kind of hard to get the scope of the sandwich from the photo above, but this was a monster sandwich. Not only was it long, but it was thick and full of goodness.
The first tastes to hit our mouth were the vinegar and heat of the hot peppers. This was followed by the taste of sweet peppers.
Getting deeper into the sandwich, a nice beefy flavor was next, with a nice amount of shredded beef just under the peppers.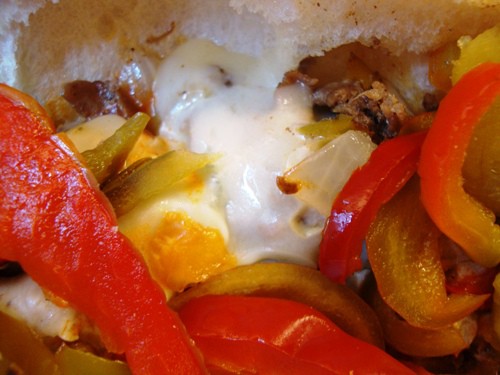 Journeying to the center of the hero, we started getting into the provolone cheese, mushrooms, and of course, grilled onions.
Believe it or not, the provolone cheese was strong enough to taste through the works, even the hot peppers.
Speaking of peppers, we really liked the combination of hot and sweet peppers in the same bite.
The only difficulty we had was the bread splitting open from the weight and moistness of all the fixings. A small price to pay for a delicious, filling lunch.
Carl's Steaks can be found on twitter here and on our Mobile Munchies twitter feed. Their website is here and facebook is here.
Enjoy!