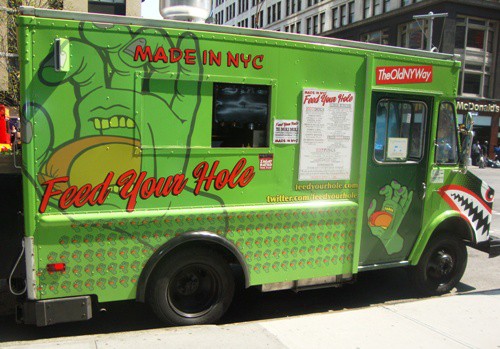 Feed Your Hole first came out a little over a year ago, but were recently off the street for a couple of months over the winter rebuilding the engine on the truck.  Last week they returned to the street.
With a name like Feed Your Hole, you know the food is going to be in your face.  When you see the truck, that's yet another sign.  If you like big, sloppy burgers, hot dogs and fries, this is the place for you.
It took a little time to peruse the menu, and I decided to get a Cheese Dog for $3 and chili cheese fries for $5.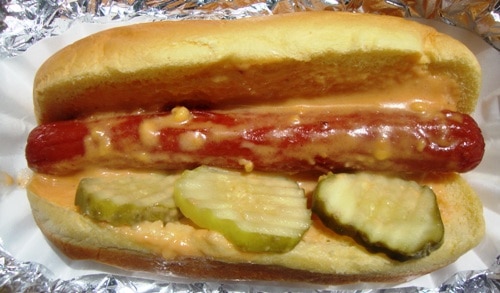 Sean told me he sources most of his ingredients (meats, cheese, produce) from Arthur Avenue in the Bronx, which New Yorkers know is a more authentic Little Italy than the touristy one on Mulberry Street.
The hot dog was an average-sized dog, but it was 100% beef and skinless.  That means it didn't "snap" when you bit into it, but was probably healthier without skin.
The cheese sauce was on the light side, not a heavy cheese, and seemed to have a couple of different cheeses .  I really liked what the pickles did with the cheese and hot dog.  I usually put relish on my hot dog, and this was in the same family.
The chili cheese fries could have been a meal unto itself. A big portion of thin fries were topped with chili, cheese sauce and a few jalapeños.  Sean's chili was meaty, tomatoey and spicy.  Topped with cheese sauce, it was even better.
My only complaint was the fries were too soft for a heavy topping like this.  I like my fries crispy to begin with, and with chili and cheese on top, they really need to be crispy.  Thin fries are fine, but they have to be more well done.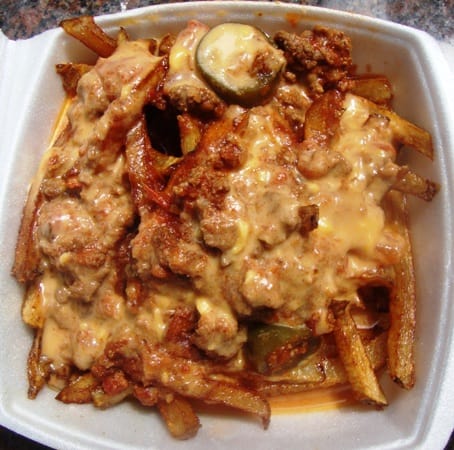 Even with limp fries, Feed Your Hole is still one of the more interesting food trucks around.  But don't go if you're in a hurry, because Sean cooks everything fresh from scratch.  You might have to wait 10 minutes, but nothing is pre-cooked like at some other places.
They did add a new person solely to take orders and handle money.   Now there are 3 people in the truck instead of 2, and it does help things go a little quicker.
Feed Your Hole can be found on twitter here and on our Mobile Munchies twitter feed.  They don't hit the widest swath of Manhattan, but are worth the effort to track down and visit.