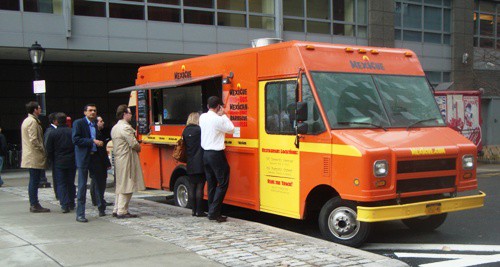 When I went down to the World Financial Center Food Truck Lot recently, there were 5 different trucks to choose from.  I wanted to get a lunch that I hadn't tried yet, and a rice bowl from Mexicue fit the bill perfectly.
You can get a rice bowl with fillings from any of the main dishes.  They all cost $9.75, and I went for the burnt ends chili.
Chefs and BBQ aficionados know the burnt ends are some of the tastiest pieces of barbecued meat.  Using the burnt ends of brisket for chili is a genius move on the part of Mexicue.  Add some ground beef and a sweet and spicy BBQ sauce, and you have the makings of a kick-ass chili.
On the bottom of the bowl they put paprika lime rice. Then chili is placed on the rice, and it's all topped with lettuce, jalapeños, cilantro lime crema, crumbled cojita cheese and crispy tortilla strips.
Wow, was this good!  The chili was nice and spicy, especially the bites with jalapeños.  The rice tempered the spiciness a bit, and the tortilla strips added a welcome salty aspect that played really well off the sweetness of the bbq sauce.
Mexicue makes the rounds of various neighborhoods, so you can find them on twitter here or on our Mobile Munchies twitter feed.  They also have 2 storefronts, one near Penn Station and one on the Lower East Side, so when the urge hits, you have several ways to get Mexicue.