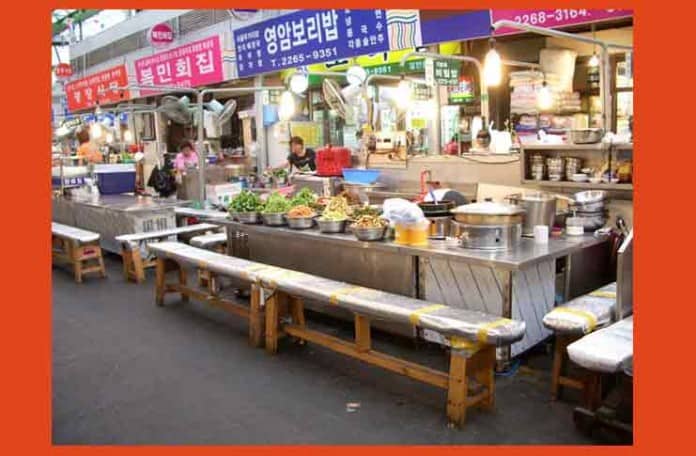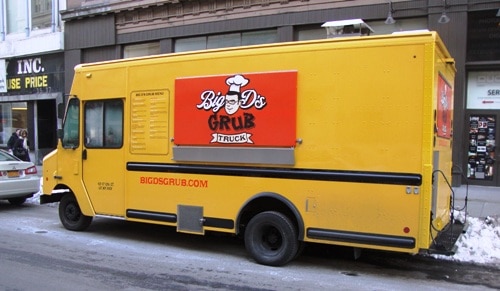 When I was in LA last week, I read about a new Korean taco truck on Thrillist called Big D's Grub Truck.  It took a little while for the Korean taco trend to head east from Kogi BBQ in LA to The Krave in NJ to Korilla BBQ and the Kimchi Taco Truck in NYC – and now Big D's Grub Truck was another one for us to check out.
It was our first day back from LA, but we tracked them down on twitter and headed over there for lunch.
The menu has 4 types of tacos ($2.50 each or 3 for $7) and grinders ($7 each), plus side dishes like french fries ($2), dumplings and fried yucca ($3 each), and 4 types of dipping sauces.
Today's Lunch was a taco set consisting of spicy chicken, spicy pork and beef bulgogi (below left to right), as well as an order of fried yucca.
I spoke to Big D for a little while, and he told me that he used to co-own a restaurant in Atlanta, but recently moved back to NY to open the truck, which has been operating for 2 weeks.  They are still working out their weekly schedule, but Big D told me he needs another person on the truck before they can go back to the crowds of Hanover Square or central midtown.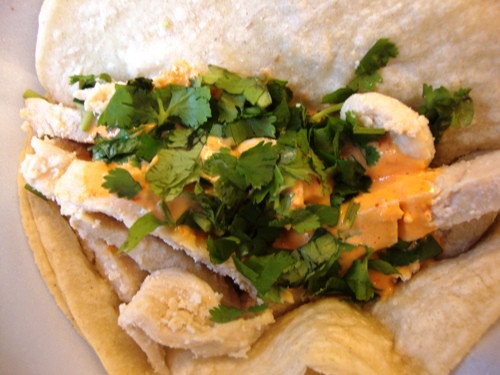 The first taco I tried was the spicy chicken.  It had strips of white meat chicken, cilantro and spicy mayo.  The chicken wasn't marinated, it was fairly plain by itself, but the spicy mayo kicked it into gear.  This taco had a decent amount of heat, which is a good thing for something called "spicy chicken", but all the heat came from the spicy (chili) mayo.  It was good, but not great.
On the other hand, the spicy pork seemed to have been marinated in a sweet mirin-type rice wine.  It was served on 2 tortillas with scallion relish, red salsa and a cucumber spear.
There was a lot more going on in the spicy pork taco than in the spicy chicken taco.  Despite the name, it wasn't as spicy as the chicken taco, but I enjoyed it more.  The scallion relish and salsa played off the marinated pork, and the cucumber spear added something cool and refreshing.
I forgot to take a separate picture of the beef bulgogi taco, but it had some similarities and some differences from the spicy pork taco.
The meat was marinated (in soy sauce, sesame oil and garlic), and there was scallion relish and kimchi puree, but instead of a cucumber, there was some Mexican crema to provide the cool counterpoint.  Some bulgogi can be fatty, but this meat was not fatty at all. Very enjoyable!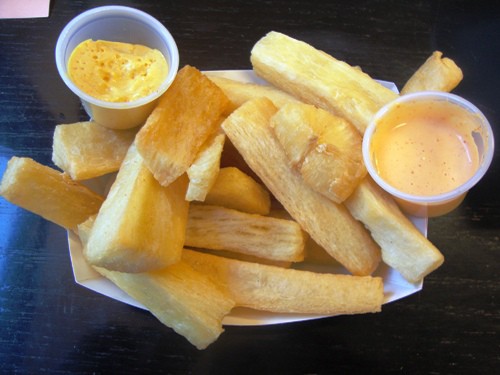 The yucca fries were a slight change of pace from french fries.  They were pretty similar in consistency and texture to french fries, but tasted different enough to know they weren't french fries.
They were bigger and thicker than fries, but were starchier and tasted more like (white) sweet potatoes.  They were quite crisp on the outside and soft on the inside – and with the dipping sauce (especially the spicy mayo), were really good.
Today's Lunch was pretty good.  I liked that 2 tortillas were used on each taco, and the spicy pork and beef tacos were very tasty, as were the yucca fries.
I would like to try Big D's dumplings, and I bet the beef bulgogi and spicy pork grinders are both worth ordering if you're more in the mood for a sandwich.
Given the quality and taste of their food, we expect Big D's Grub Truck to be around for a while.  Welcome to the New York Street Food scene, Big D!