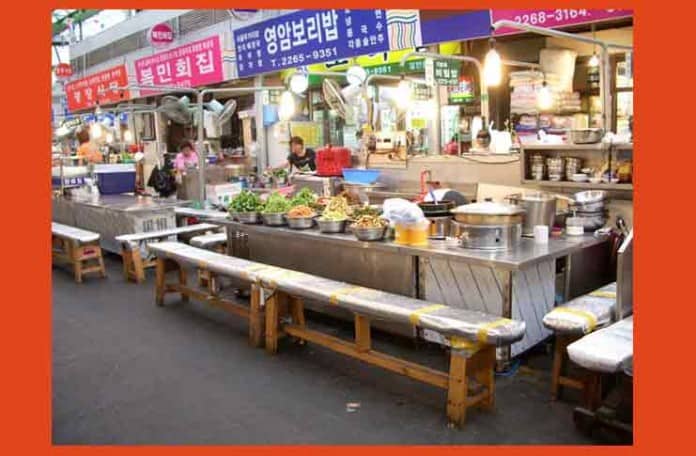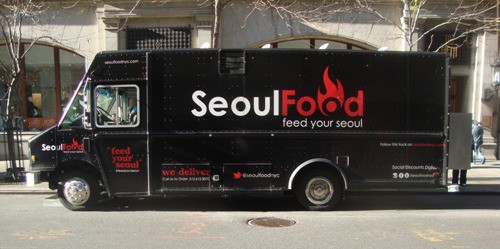 There has been an explosion of Korean food trucks in New York in the past year or two.  The first one I was aware of was Krave Korean BBQ in Jersey City, then in NYC we got Korilla BBQ, Big D's Grub Truck, Kimchi Taco Truck, and Bob & Jo – and that doesn't even count the Korean carts like Bapcha and Gobuki.  Some of them fuse Korean and Mexican cuisine and some have more traditional Korean food.
The latest entrant, Seoul Food, serves both.  They have fusion cuisine like Korean tacos, burritos and sliders – but they also have more traditional Korean food like bibimbap and rice platters – and they even make a Korean version of the Vietnamese banh mi sandwich.
Seoul Food is also taking social media to the next level by giving away food for social media activity.  You can get a free taco by "Liking" them or posting a photo on facebook, or checking in on foursquare.  You can get free fries by following them on twitter or tweeting about the truck.
I went to the Seoul Food truck on Friday, which they told me was only their 2nd day in Manhattan, although I know they had a few "soft opening" days about a month ago, both in NYC and Hoboken.
On Friday there were serious problems in the service department, with long waits, point-of-sale equipment issues, and being out of several items by 1:15pm or so.
There were about 10 people in line when I arrived, but it took 20 minutes to even place my order, and another 15 before it was ready.  We will make sure to try them again soon to see if the service issues have been sorted out.  Please let us know what your experience was like.
As for food, we ordered a banh mi sandwich with sweet & spicy pork ($8.50 plus tax), and got a free taco for liking them on facebook, for which we selected kalbi (short rib).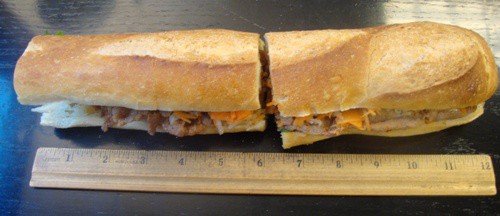 The banh mi sandwich is supposed to come on a 10″ baguette, but that wasn't the case – it was actually 12″ long.  This was a long sandwich.
Inside the bread was plenty of meat, pickled julienned carrots and radishes, cucumbers, cilantro and spicy mayo.  Despite all the uses of "spicy" on the menu, I wouldn't say the banh mi was particularly spicy.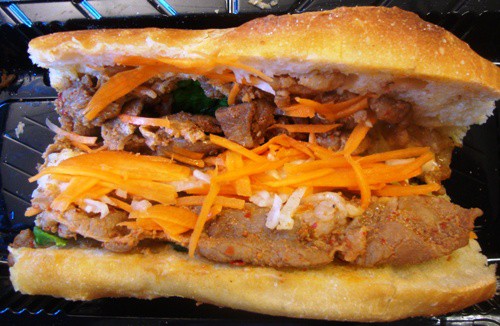 The pork was marinated in a sweet, but not really spicy, sauce.  The spicy mayo helped add a little heat, but I would have liked a bit more spiciness.
The baguette was very crusty, giving off a lot of crumbs.  You can also get bulgogi beef or chicken, and there were nice, cool cucumber slices and cilantro under the meat, which I enjoyed.
The free taco was supposed to be kalbi, but they had just run out, so I got beef bulgogi instead. BTW, other customers told me they had also run out of sliders and fries.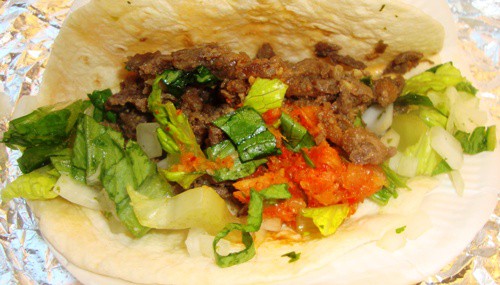 The taco had only 1 tortilla, but it held together fine.  Inside were bulgogi beef, kimchi, shredded lettuce, onions and spicy mayo.  They also had kalbi, chicken, pork and portabello mushroom tacos on the menu.
This was a very tasty taco.  The bulgogi had one of the better marinades of the Korean vendors, and the kimchi and spicy mayo were good additions to the taco.  While the spicy mayo didn't add a whole lot to the banh mi, it definitely added to the taco.
We will be going back to Seoul Food to try some other dishes, and to see if the service has improved.  The taco was very good, and the banh mi was pretty good.  If you have tried Seoul Food, let us know your thoughts as well.
You can follow Seoul Food on twitter here, or on our Mobile Munchies twitter feed here.   Their website is here but it's only a home page.  To see their full menu, look here, here and here.