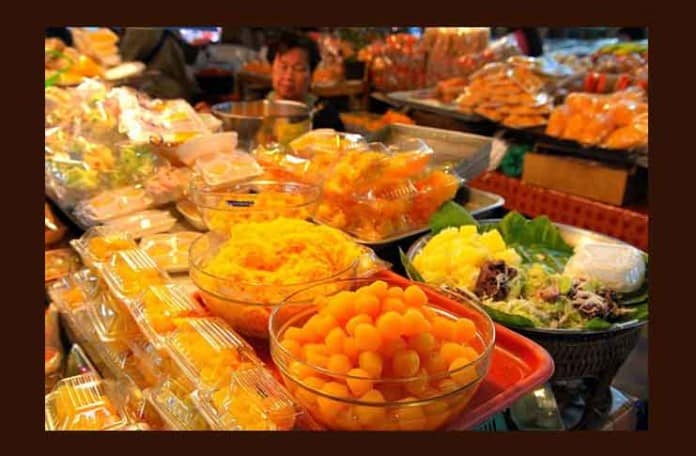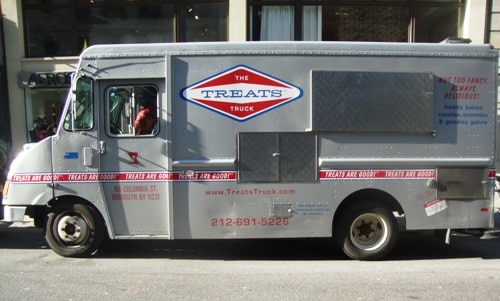 The Treats Truck is doing a special promotion with McCormick spices and extracts, and Kim created 3 new holiday-themed treats using McCormick spices and extracts. There are several components to this promotion, including the McCormick Big Cookie Share where you can customize your own cookies, and a free cookie giveaway that was at the Treats Truck last Friday.
Since the Treats Truck will be selling these cookies during the holiday season, we decided to do a taste testing of the new cookies so you can decide for yourself which one(s) you want.  We know it's a tough job, but someone has to do it.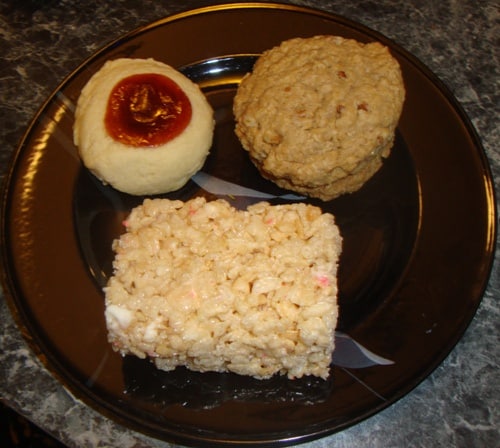 The first new treat we tried was the Little Peppermint Crispy Rice Square (bottom in photo).  This was a rice krispie square with two big additions – tiny pieces of peppermint candy and white chocolate chips.
Even though the peppermint pieces were tiny, they added a fairly strong mint flavor, although there could have been McCormick's mint extract added too.  The peppermint flavor was tempered a bit by the white chocolate chips.  Yum!
Next up was the Sugar Cookie Thumbprint with a Spiced Jam Center (top left in photo).  We often make sugar cookies in our house around the holidays, but never put jam in the center.  There were several choices of jam available, including strawberry, blackberry and raspberry.
We got strawberry, and it was delicious.  Not to get too far ahead of ourselves, but this was my personal favorite of the new treats.  The sugar cookie was buttery, and the spiced strawberry jam was phenomenal.  Double yum on this one!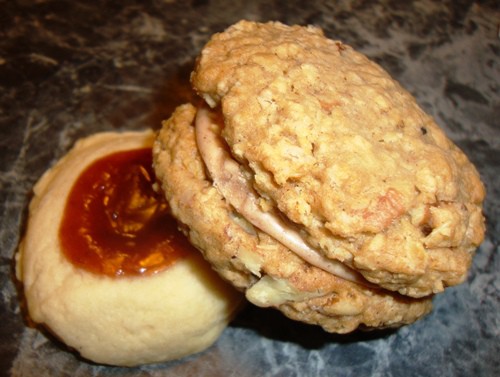 The last cookie was also the biggest – a Nutty Oatmeal Ginger Cookie Sandwich.  By definition it had two (oatmeal) cookies with a sweet ginger buttercream filling.  This cookie had some cinnamon and nutmeg going on, and there were chopped pecans in the cookies too.  If you like nuts, this treat had plenty.  The sweet filling also had ginger and cinnamon.  Very tasty!
You can find the Treats Truck on twitter here, or on our Mobile Munchies twitter feed.
If you want to get into the holiday spirit, there's no better way than with these new holiday cookies from the Treats Truck – or The Treats Truck Baking Book, which makes a great gift for anyone you know who enjoys baking.