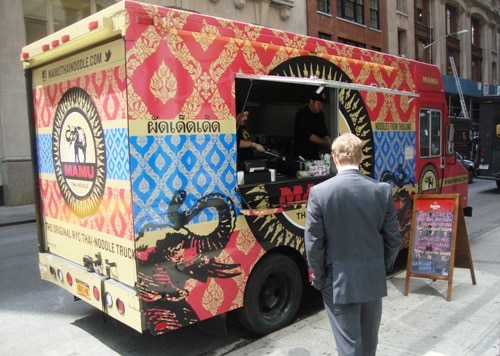 Ever heard of Pad See Ew? What about Mamu Thai Noodle Truck? Well, we first heard about the Mamu Thai Noodle Truck during their Kickstarter campaign over the winter. Siwat, the owner and chef, was trying to raise the final $11,000 needed to get the truck on the street. Luckily, he succeeded.
Mamu has been serving lunch and dinner in Brooklyn over the past couple of weeks, plus lunch once in Manhattan. Unfortunately, our schedules just didn't match until yesterday, their second time in Manhattan.
The menu is small for now, but they expect to be adding items as operations get smoother. There are 4 people working in the truck, so waits are minimal, except for the amount of time it takes to cook a dish.
As we always do our first time at a new truck, we asked what they recommended. Siwat suggested the Pad See Ew, which we got with shrimp for $9. You can also get it with tofu for $7 or chicken for $8.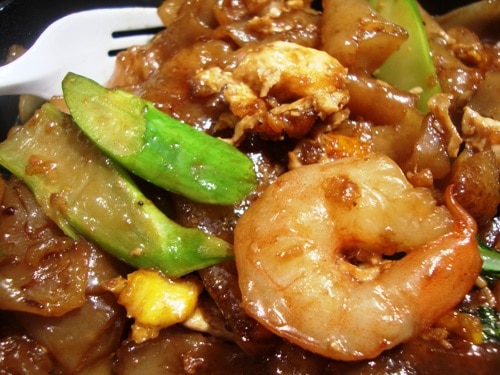 Siwat got the bug to cook and serve noodles after visiting family in Bangkok, where they own 3 noodle shops. He is using family recipes handed down over generations on the truck. It doesn't get more authentic than that!
For the uninitiated, Pad See Ew is a stir-fried dish made with flat rice noodles. The name translates as "fried with soy sauce". (Thank you Wikipedia.)
The noodles were slippery, but not overcooked or mushy, and there were a lot of them. We ended up pretty full by the end of lunch.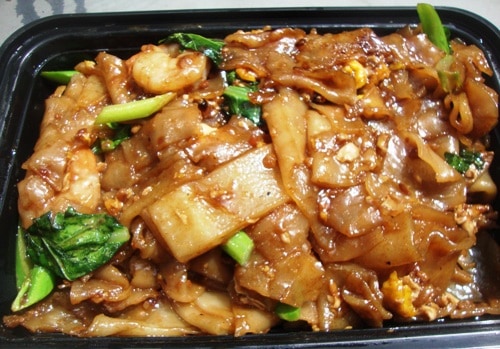 The Pad See Ew noodles were cooked in a light, sweet sauce which was almost like a glaze.
There were about 1/2 dozen shrimp, which were all plump and juicy. In Thai noodle dishes, as in most of Southeast Asia, the protein is a smaller part of the overall dish than in Western cooking. Noodles are the main attraction here.
In addition to noodles and protein, there were scrambled eggs and Chinese broccoli. We love eggs in almost anything, but what really got our attention was the Chinese broccoli. We're not usually big vegetable eaters, but the Chinese broccoli was sliced into thin pieces length-wise, and still had a really nice crunch. The juxtaposition of the crisp Chinese broccoli and the soft, slippery noodles was very enjoyable.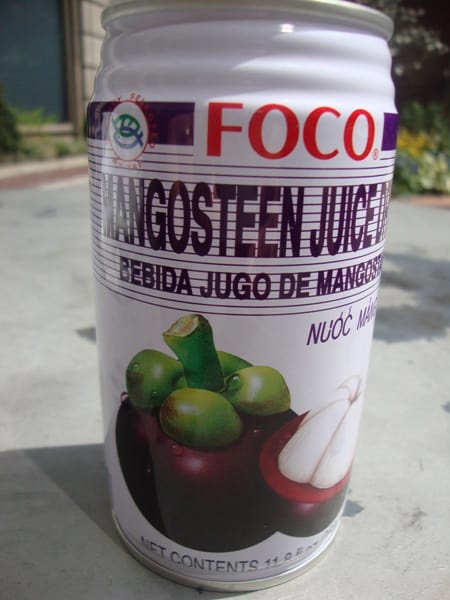 On the drink menu, Mamu had cans of mangosteen and lychee fruit drinks for $3. We got the mangosteen juice drink, which struck us as a cross between grape and apple juice. It was non-carbonated and a little too sweet.
Just as we got our change, we noticed a vat of Thai iced tea next to the register. Noticing our interest, they offered a sample taste. Yum! That's what we're getting next time.
The Mamu Thai Noodle Truck has been out regularly for a few weeks now. Their intention is to start hitting different neighborhoods once the kinks are worked out, but they seemed pretty kink-free when we were there. Maybe they will do lunch in Manhattan and dinner in Brooklyn. That seems like a good solution.
You can follow the Mamu Thai Noodle Truck on twitter here, facebook here, or on our Mobile Munchies twitter feed.