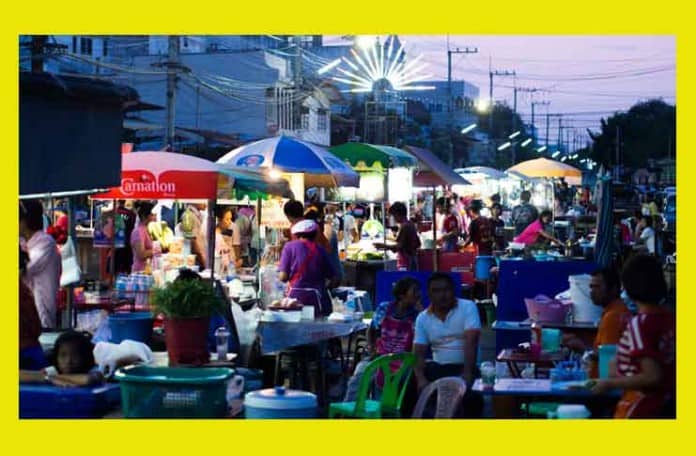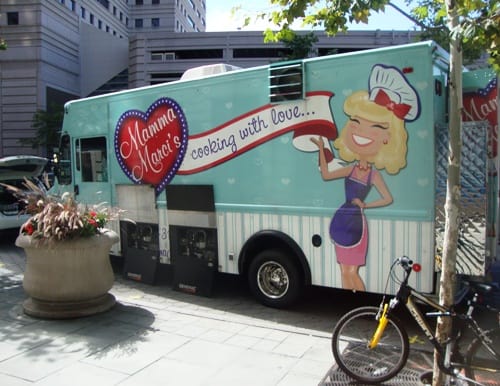 The last new food truck I tried at the All About Downtown Festival in Jersey City last weekend was Mamma Marci's.  Both Home By The Range and Lucinda Creperie were excellent.  How would Mamma Marci's stack up?
First I perused the menu, which you can see here.  I've heard that Mamma Marci's meatball sandwich ($7) is good, but I decided to go for the Italian hot dog ($7) instead.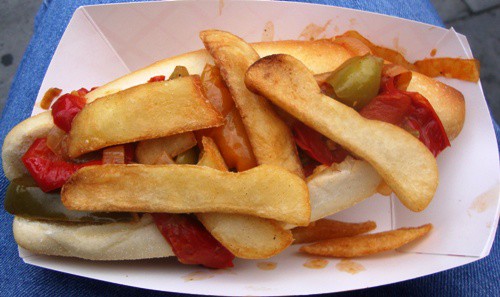 It's tough to see under all the stuff in the photo, but an Italian hot dog is your choice of a regular or spicy hot dog with peppers & onions, and they put steak fries on top.  Of course I went for the spicy option.
When I picked up the dog to take a bite, several of the steak fries fell off into the container.  I bit into the end of the hot dog, and it was quite spicy, just as advertised.
The hot dog was thicker than a regular hot dog, so there was a good amount of meat in each bite.  I also got some peppers and onions along with the hot dog.  If Italian sausage is so good with peppers and onions, it follows that a spicy hot dog would as well.
The steak fries were good, but I didn't think they added anything to the hot dog.  Actually, I thought they detracted from the hot dog, peppers and onions, so I took them off and ate them as a side dish.
The bun was thicker than a regular hot dog bun, and had no trouble standing up to all the fillings.
The Italian hot dog from Mamma Marci's was really spicy by the end, and pretty tasty, but I wouldn't get steak fries on top next time.
Next time I see Mamma Marci's truck, I definitely want to try the meatball sandwich.
You can find Mamma Marci's website here.