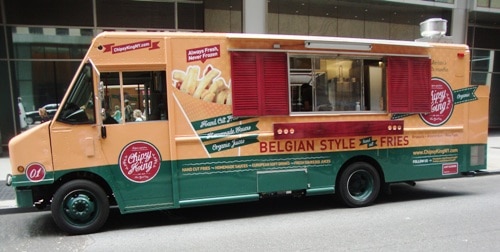 Heading back from lunch yesterday, we ran into a new food truck right around the corner from our office, on Broadway between 55th-56th St. We had already eaten lunch, but you know us…we can't pass up a new food truck, full or not.
The truck was called Chipsy King, and they serve Belgian style fries.
Saturday was the truck's first day out, so they are very new, and the only thing they had was fries with a few basic sauces.
Reading the side of the truck, it looks like they will be expanding the menu with homemade sauce, fresh-squeezed juices, and "European soft drinks".
Doing some research last night, we found Chipsy King is a frites shop in Amsterdam. There was writing on the truck that said "Amsterdam's Favorite Munchie", so we are guessing they are affiliated with the Amsterdam shop.
Digging deeper, the Brand Labs NY facebook page said "European fast food brand Chipsy King has crossed the pond and landed in America. True to NYC style the chain is launching in (the) form of Food Trucks."

We ordered the only thing they had, belgian fries and a sauce for $5.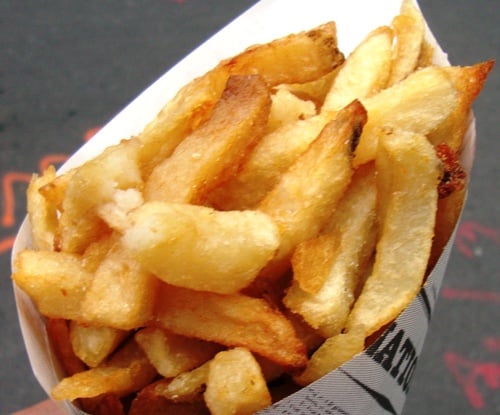 We're not happy about paying $5 for an order of fries, even if they are big and hand-cut and called belgian fries.
So far, the only sauces they had were ketchup, mayo and hot sauce, none of which appeared to be homemade.
That said, the portion of fries was ginormous. They were served in a foot-long cone, and spilled out generously over the brim.
The belgian fries themselves were thicker than regular fries but not as thick as steak fries.
They were nice and crispy on the outside, soft on the inside, and lightly salted. Very good fries!
Unfortunately, there was no way we were going to eat this many fries. This was a huge serving, with at least enough for 3 people to share.
This was a promising start with the fries at Chipsy King, but we have a few suggestions.
First, there need to be a smaller size available. We can't eat just fries for lunch. To us, they are a side dish or a snack, not a meal.
The Frying Dutchmen started with not only regular and sweet potato fries, but also chicken tenders. They eventually expanded to chicken sandwiches and burgers, too.
The Frying Dutchmen also had a dozen or more homemade sauces to choose from each day.
For Crispy King to be successful, there need to be more options in food, condiments and sizes. Here's hoping they read this…because the fries were tasty.
We have not been able to find a twitter, facebook or website page, but here's the page on Trip Advisor for their Amsterdam shop.