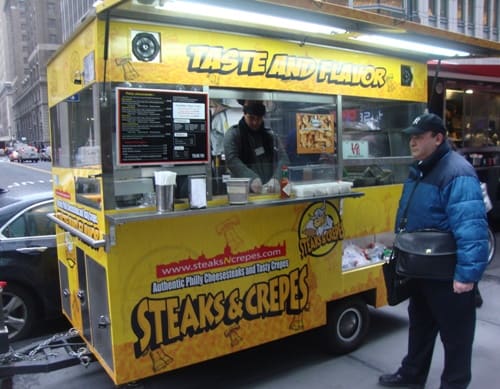 Feel like Cheesesteak? When food trucks were helping feed people after Hurricane Sandy, we heard about a vendor called Steak & Crepes that was in the mix. We assumed it was a local street vendor, like The Fisherman's Dog, who are based in the Rockaways. That assumption turned out to be wrong.
Last week Steak & Crepes was at the current street food hotspot, 47th St between Park & Madison, and there was a familiar face on board. Turns out that Steak & Crepes is the creation of Hacene, who used to be the manager of the Gorilla Cheese NYC truck. About a year ago, James from Gorilla Cheese told us that Hacene probably wouldn't be working for him much longer, because he had an idea for his own food business. Looks like his idea was Steak & Crepes, two food items you wouldn't necessarily put together.
The menu is just what it sounds like, several variations on cheesesteaks and a dessert menu featuring crepes. There was a sign on the cart for Amoroso's bread, which is authentic Philly cheesesteak bread, so that was a promising omen.
We went with the basic regular cheesesteak, which cost $8.50. There were several toppings for more money, such as mushrooms, sweet or hot peppers and a few other choices, but grilled onions and your choice of 3 cheeses is included in the price.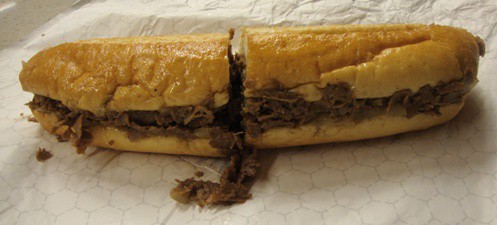 Cheesesteaks aren't the prettiest lunch to photograph because  the bread is steamed over the meat on the grill, and it gets prune-like, as your skin does when you stay in the water too long.
When the sandwich comes off the grill, it's immediately wrapped up tightly in wax paper, which keeps in the steam even longer. These things makes the bread moist when you unwrap it. That's why the quality of the bread is so important in Philly cheesesteaks.
Another thing that's very important is the steak quality, which is shaved thin. We're not sure where the meat comes from at Steak & Crepes, but it tasted good, with a nice grilled flavor. The sandwich was also pretty well stuffed with meat…and onions too.
All of the sandwiches at Steak & Crepes come with grilled onions, unless you say otherwise. The onions were an integral part of the flavor of this lunch.
In our opinion, the weak spot here was the cheese. You get a choice of Cheez Whiz, white American or sharp provolone. We got sharp provolone, but it was barely noticeable. There were maybe 2 or 3 bites where we noticed the cheese. It may be a little unfair to say every cheese option was weak, but the "sharp" provolone was not even close to sharp.
If they just called it provolone, our hopes would not have been raised, but calling it "sharp" raised our expectations.
Other than the lack of cheese flavor, we enjoyed the sandwich, but that's not a minor infraction on something called a cheesesteak. We'll have to try the other cheeses before passing judgment.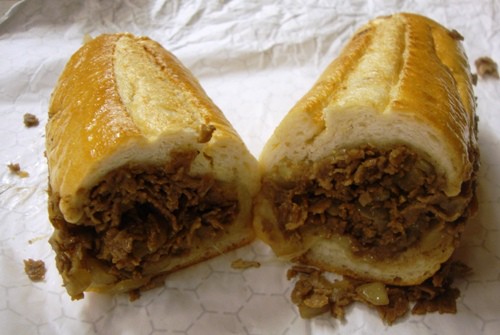 As for the crepes, there are 5 types of dessert crepes, ranging from $5-$6.50 in price. We didn't try them, and everyone we saw was getting a sandwich. Did any of you try the crepes? If so, please let us know your thoughts.
Steak & Crepes is a new cart, and they are still getting their chops together. We'll be back over the next few weeks to try some other things on the menu.
You can find Steak & Crepes on twitter here or on our Mobile Munchies twitter feed. Their website is here and facebook is here.