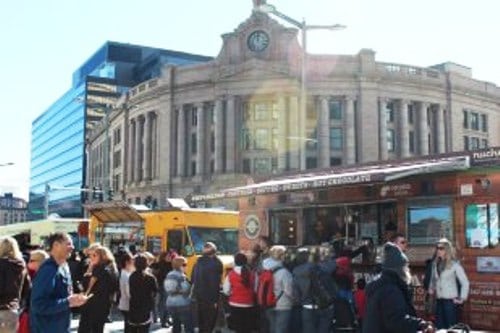 After two trips to Boston to take on their Beantown rivals, NYC food trucks are heading to Washington DC in a few weeks for their next Food Truck Throwdown.
We've been down to Washington a few times and tried some of the food trucks in DC. Pretty good stuff.
But we've got some great food trucks heading down I-95 for the event!
While the DC food trucks have not been announced yet, the New York food trucks that have signed up include Big D's Grub Truck, Chinese Mirch, Nuchas, Phil's Steaks, Rhong-Tiam, Uncle Gussy's and Wafels and Dinges.
That's gonna be a tough lineup to beat.
The Throwdown will take place on Saturday, August 3rd in Southeast's Canal Park, near the Navy Yards.
We will not be able to make it, but if anyone attending would like to write it up for New York Street Food, please contact perry@newyorkstreetfood.