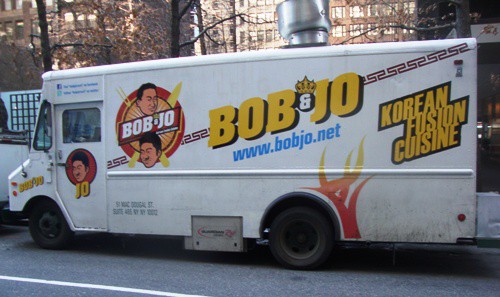 Love Dumpling Ramen? We do. And we know winter is nearly here when street food vendors start changing over to their winter menus. That means one very important change – soup!
Bob & Jo, the Korean fusion food truck, tweeted to check out their new winter menu, but they didn't say what it was.
When we arrived at the truck and saw the new menu, our hearts sang for joy. Dumpling Ramen! Bob & Jo still had rice bowls, but instead of baguettes, there was ramen. It came with your choice of beef, chicken, pork or seafood, and each one costs $8.
We opted for the Dumpling Ramen combination for $10, with beef bulgogi as the meat.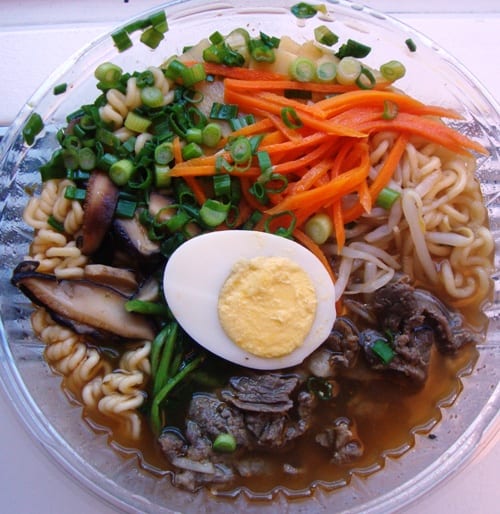 Expecting the soup to stay hot longer, we started with the dumplings.
There were 5 small dumplings in the combo, which were fried. There was ground pork in the middle, and they were topped with a little dipping sauce and scallions. The edges of the dumplings were crispy, making a little crunching sound while eating. The dumplings were not amazing, but we were happy with them, and having 5 for $2 is a good value.
Moving on to the ramen, there were noodles, greens, carrots, bamboo shoots and scallions, as well as our favorite part, half a hard-boiled egg. Anything with a hard-boiled egg usually gets our vote. The ingredients were all set in a broth.
Even though everything was hanging out in the soup for a while while we returned to the office, the veggies still had some life to them. They weren't al dente, but they weren't soft and mushy either. The mushrooms especially should be singled out, and the bulgogi beef had a nice marinated flavor of sweet rice wine to it.
On the other hand, the noodles were softer than they should be, but we're guessing the noodles were originally packaged, not fresh. Not a big surprise, as we wouldn't expect fresh noodles and all these ingredients for $8.
The broth had a little bit of spiciness to it, but nothing too hot. Just a little zing, although it built up over the course of lunch.
You can try Bob & Jo's new winter menu by finding them on Twitter here or on our Mobile Munchies Twitter feed. They make the rounds of different areas for lunch, so keep your eyes open if you're not a tweeter. They recently restarted dinner service too, and were on the Upper West Side a few days ago.