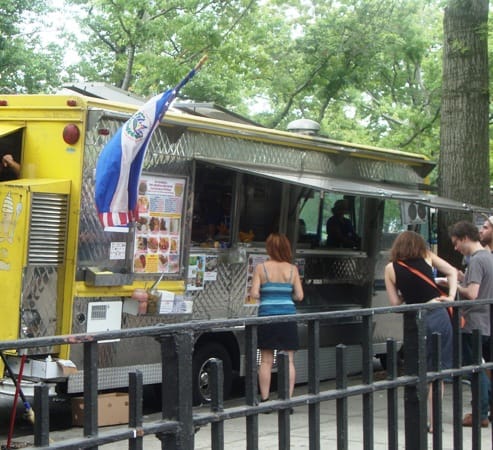 As you probably already know, the Red Hook Ballfields in Brooklyn is the place to go for some of the best, most authentic Latin cuisine anywhere. With Piaztlan Authentic Mexican Cuisine winning the 2012 Vendy Cup on Saturday, Red Hook Ballfield Vendors have won the Vendy Cup in 3 out of the last 4 years.
One of the vendors who hasn't been nominated for a Vendy Award yet is El Olomega. Judging by our recent lunch, they may be next. We ordered pupusas, the Salvadoran specialty. You get two to an order, and it costs $6.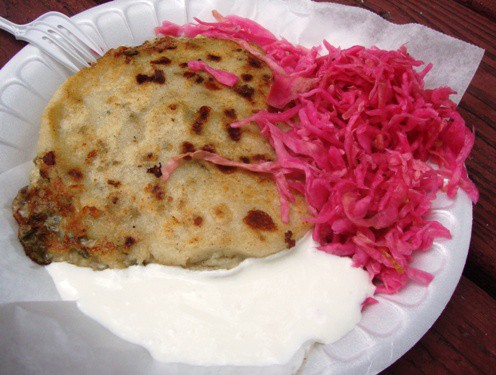 Pupusas are corn masa patties stuffed with a variety of fillings by hand, then grilled. We got pork & cheese and loroco & cheese.  Pickled cabbage and sour cream are served on the side.
The pupusas were served one on top of the other, so we started with the loroco, which was on top.
Loroco is an edible flower that grows in Central America and southern Mexico. It has a mild, greenish flavor that goes well with the cheese they use. I can't tell you exactly what kind of cheese was used, but it was stretchy and not too strong.
With the grilled corn patties, a little sour cream, and a couple of strands of pickled cabbage, each bite was delicious.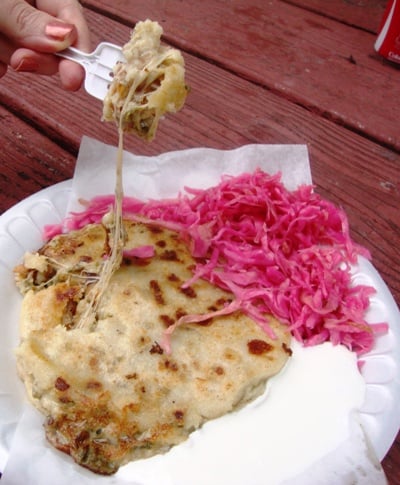 Underneath the loroco pupusa was a pork and cheese pupusa. While the shredded pork and cheese was good, we enjoyed the loroco flower even more. It was lighter and more delicate than the pork, and was a nice change of pace.
The Red Hook Ballfields Vendors are on the corner of Bay St & Clinton St in Red Hook, Brooklyn every Saturday & Sunday from April through October. This gives you 6 more weekends this year to enjoy El Olomega and all the other vendors there.
With 3 Vendy Cup Winners: Piaztlan Authentic Mexican Cuisine, Solber Pupusas and Country Boys Tacos, and a number of other  vendors from Colombia, Ecuador, Guatemala, El Salvador, and of course Mexico, you can't find better Latin American food anywhere.
Make sure you try one of the juices offered at many of the trucks. We loved the horchata, which had milk, rice, cinnamon and vanilla, but there were many other types sold including cashew juice, hibiscus tea and more.