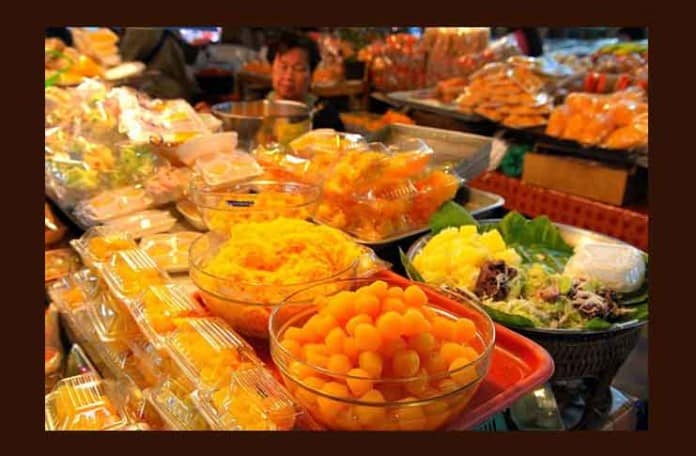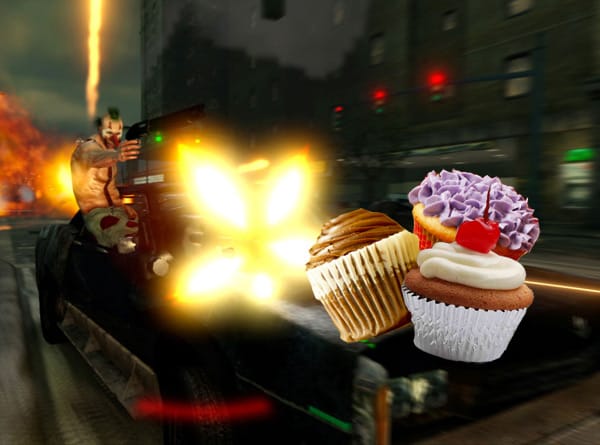 Drew Lazor of the Philadelphia City Paper filed the following report about the sudden increase in cupcake trucks there.
"Last summer, Kate Carrara debuted her Buttercream cupcake truck and was instantly embraced by sweet-teeth citywide. One year passes, and suddenly there are two brand-new four-wheeled cupcake-slangin' operations hitting Philly. What is the logical next step here? Will each truck roll out tank-caliber fortifications and invest in armaments on some Twisted Metal-type stuff (artistic rendering above)?  Will the streets run red-velvet with senselessly spilled cream cheese frosting? Will someone develop a projectile IED slathered in chocolate ganache? WHO SHALL PREVAIL?!"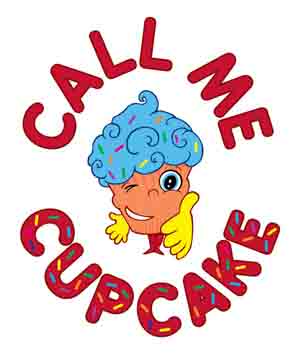 It's not quite as dramatic as that, as least as far as Dave & Cheryl Dilks are concerned. The couple, who rolled out their Call Me Cupcake truck last week, feel there's plenty of room in Philly for multiple cupcake-centric mobile operations. "I don't think it's going to be an issue," says Cheryl, a Buxco native who says she and her husband started working on their business model this past spring. "It's a big city and there's a lot of places to go, and a lot of people in all those different places." Cheryl says the biggest thing that distinguishes her truck, aesthetically speaking, is the personified-dessert Call Me Cupcake mascot (right), which is plastered on their ride. The Dilks have a Philly bakery (whose name they're not disclosing) providing their cupcakes; they offer five or six varieties daily for $2 a pop.  The truck roams around the city on weekdays (keep track of them via Twitter) and is available for events on the weekends.
Sweetbox is the third and latest cupcake truck poised to serve Philly – Gretchen Fantini has been pushing her wares sans-truck at various events and farmers markets (including The Piazza's) for several months now, and says she's on the cusp of launching a truck in University City. Sweetbox will take a different approach than Buttercream and Call Me Cupcake, operating primarily out of a fixed vending spot in West Philly. It's on Twitter, too, of course.
Buttercream's Carrara checks in with this statement about the the city's suddenly-hopping mobile cupcake climate: ""'s a tough business and we wish them the best of luck. There will always be competition in any business, so more competition motivates us to strive to make the best cupcake on earth." [Drew Lazor-Philadelphia City Paper]