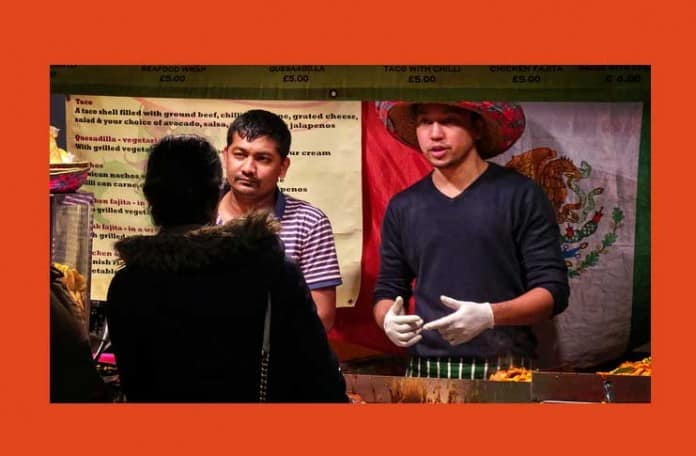 I'm having a pretty crappy day today, so I wanted some comfort food for lunch.  That means Today's Lunch is a chicken burrito ($7) from the El Rey Del Sabor cart on the north side of 43rd St just east of 6th Ave.  They also have carts at 60th St & 3rd Ave and 49th St & Park Ave with the same food.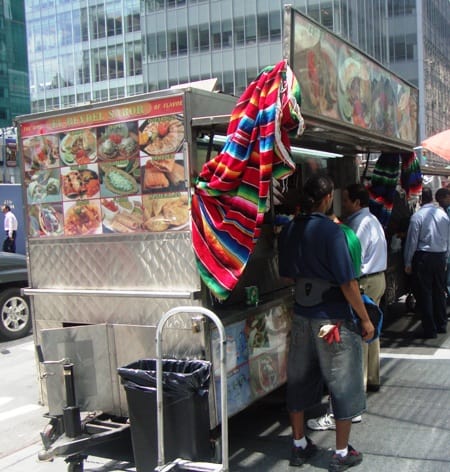 I watched them prepare the burrito – large flour tortilla, a small amount of refried beans, rice, chicken, lettuce, (no tomato), cojita cheese, crema and hot sauce.  Very nice assembly.  Carrying the burrito back to my office, I was surprised at how heavy it was.  Maybe I should start weighing each lunch, because some of these lunches are seriously hefty.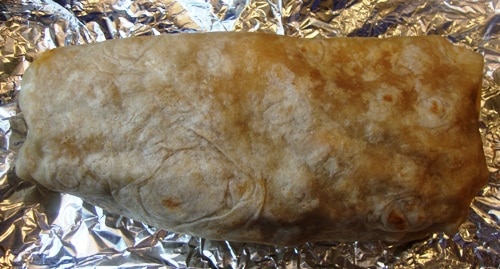 The first bite was pretty spicy and even a little creamy.  Subsequent bites got more rice and chicken, but were still spicy and creamy.  The crema and hot sauce really came through, and the lettuce added some crunchy texture.  The chicken was all white meat chunks, and the rice was a nice Spanish rice.  The burrito did get a little messy as I got towards the end.  All that sauce made it a little difficult to handle.  Luckily I had a fork in my desk.
Today's Lunch get an 8.5 out of 10.  This is definitely my idea of comfort food, although it did get even spicier towards the end of the burrito.  When I want a sure thing, El Rey Del Sabor is one of the places I go.  One of these days, I want to try tortas or flautas from there.