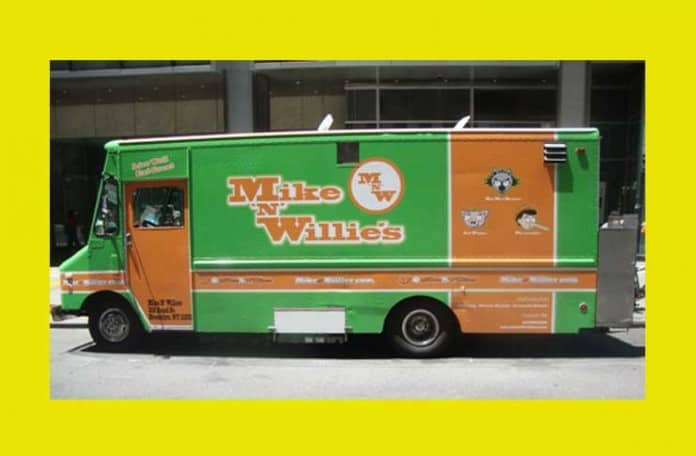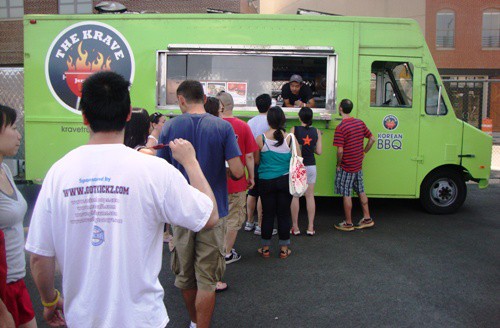 The brutal heat has broken, and it's a wonderful day for great New York Street Food from the vendors on the right and the trucks below.
If you can't make it to one of the 5 trucks giving out FREE lunch courtesy of Snapple, stop by Feed Your Hole on 26th & Park who are filming a segment for Season 2 of Eat St.
There are lots of other options too, but the police have been actively chasing food trucks in some areas so make sure to check the Mobile Munchies twitter feed before heading out. Gorilla Cheese was already chased today.
lobstertruckny Red Hook Lobster Morning Crustacean Cravers! Big Red is parked on 55th between Broadway & 8th today ; Service at 10:45. Yay for Friday!
CoolhausNY T1 is hanging out at the High Line today on 30th &10th! Brian & Lauren on board! T2 headed to Union Square today…will tweet once parked!
TaimMobile 25 and 5th today with harrissa!
CupcakeStop Good Morning Cupcakestoppers Truck 1 is parked at Varick street corner of King street…..come by and say hello. Todays flavors are RV.funfetti.oreo.vanilla Choc.coconut. Choc oreo.Choc vanilla. Lemon poppy.vanilla vanilla
Frying_Dutchmen Having some work done on the truck, will be open tonight at our night spot in Union Sq. Starting on Monday if you work in the FiDI and want to order from us to your office now you can. Order minimums are 75 and we go to all FIDI
elolomega Remember rain or shine we are at Red Hook Park every Sat. & Sun. Open from 9:30 to 9:00.
New Jersey
VeganLunchTruck The Cinnamon Snail Serving lunch downtown and dinner uptown Hoboken. We don't have a parking spot saved for us already, so if… http://fb.me/1479NNFGZ
TheKrave The Krave Korean BBQ FRIDAY – 12:00-2:00 Hudson and Harborside Pl. 5:30-9:00 Columbus and Marin http://tumblr.com/xl12xktx0p
TheTacoTruck
We're on our way to
#Newark
by Washington Park! Exact time/location will be posted once we're parked
TwoPitasInAPod
The Pod is headed to Hoboken – Sinatra btw 1st & 2nd. The Pitas are a man short today so be gentle
LaBellaTorte good morning the dessert truck will be back in hoboken today stay tuned for todays sweet spot