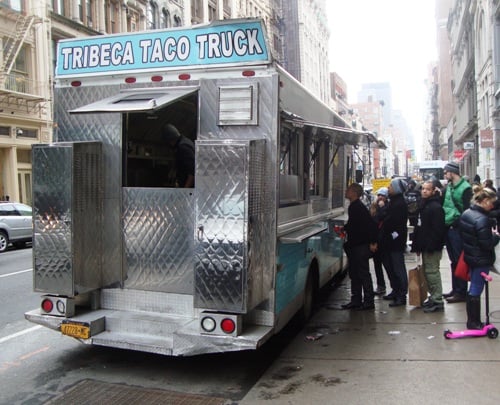 We don't get to the Tribeca Taco Truck too often, but when we do, it's usually a great meal.
They generally park in Soho (not Tribeca) when they're out. You can usually find them on weekends on Broadway around Spring Street.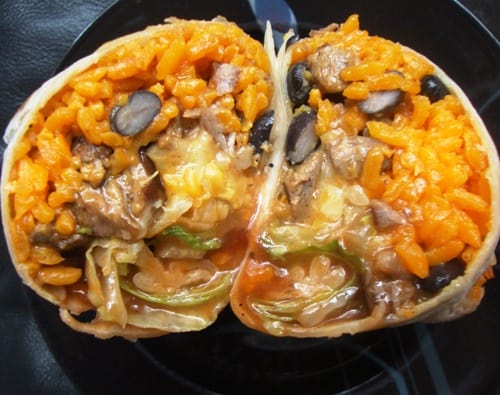 We've written about Tribeca Taco Truck before, but haven't tried their burritos yet. This trip called for a carne asada burrito, which cost $8.
We asked for no tomato, but the other goodies were nice chunks of marinated steak, orange rice, lettuce and beans.
The meat was well seasoned and fairly tender.
Our favorite part of going to Tribeca Taco Truck are their sauces. They have about 8 different sauces to choose from.
We really like the combination of spicy mango sauce and pineapple bbq sauce. The spicy mango gives off some serious heat, but it's fruity too. The pineapple bbq sauce adds a little tang and more fruitiness, but we didn't really taste get the bbq part of it. Still, a great combination of sauces.
You may have heard of the Who album entitled Meaty Beaty Big & Bouncy. This burrito was Meaty Fruity Hearty and Spicy.
The other thing about this burrito is it will hold you for quite some time. No getting hungry mid-afternoon if you have one of these babies for lunch.
The Tribeca Taco Truck is on twitter here or on our Mobile Munchies twitter feed, but they don't tweet too often. Find them around Soho. They have 2 trucks, one mainly white and one mainly turquoise.
You can see their full menu here. Enjoy!