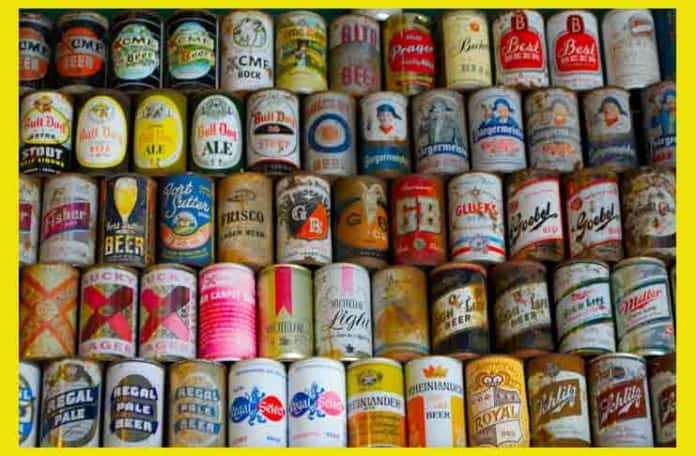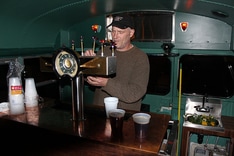 What do you get when you cross a food truck with a bar? A damn good time, if you ask us!  Just make sure the bartender doesn't drive after doing shots with customers.
A few weeks ago, QSR spoke with Andrew Freeman about food trends for 2012.  Freeman heads a high-end hospitality agency that released a preview of the hottest trends and predictions in food and restaurants. Freeman's list also turns an eye toward beers, cocktails, and spirits, informing breweries and bars of what's on its way up in 2012.
With the public's insatiable desire for food trucks, it was only a matter of time before drinks and food trucks combined forces.
Last June we saw the 1st liquor license being awarded to a New York food truck, but Pera was still primarily a food truck that also served drinks.  Freeman thinks it will be more about promotional drink trucks than full-service saloons on wheels.
Last summer we had the Camarena Tequila Taco Truck in New York for about a month, and it traveled to other cities as well.  They couldn't give away tequila, but they did give away tequila-infused tacos, t-shirts and other promotional goodies.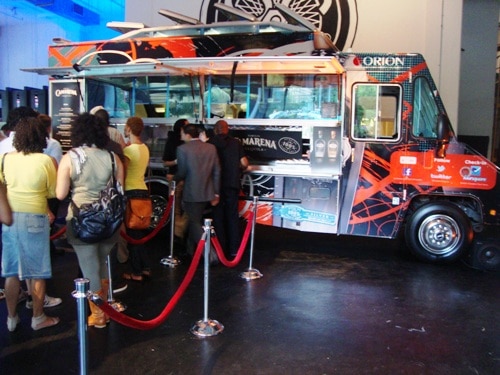 And who can forget the Dos Equis Feast of the Brave Truck that was in New York for 10 days around Cinco de Mayo last year.  Grasshopper, ostrich meat and veal brains in tacos!  That could make anyone want a Dos Equis to help wash it down.  Unfortunately, NYC laws didn't allow the Dos Equis truck to serve beer.
The Leblon Cachaca Caiprinhas Truck has multiple locations nationwide, and the BrewTruc rolls around San Francisco.
Freeman, however, says cocktail trucks will not repeat the boom of food trucks due to legal issues.  That is certainly the case in New York City, although New Jersey may be a little more accommodating.  We wrote about the Freixenet Tastings & Tapas Truck in NJ last summer that gave away sparkling wine and tapas outside popular nightlife establishments.
"Some of these trucks serve primarily as promotional vehicles rather than as independent business operations," he says. "The serve to promote a brand rather than to make money. Where it's legal, they will be popular but more as a novelty – [like] evening meet-ups and parties."
More trucks will make use of alcoholic beverages in alternative forms, Freeman explains.  Think boozy ice cream trucks with whiskey popsicles or a Manhattan-flavored snow cone.
Hey, we had those last year with the Kelvin Slush Prohibition-Style Happy Hour.  It was one of the highlights of our summer.