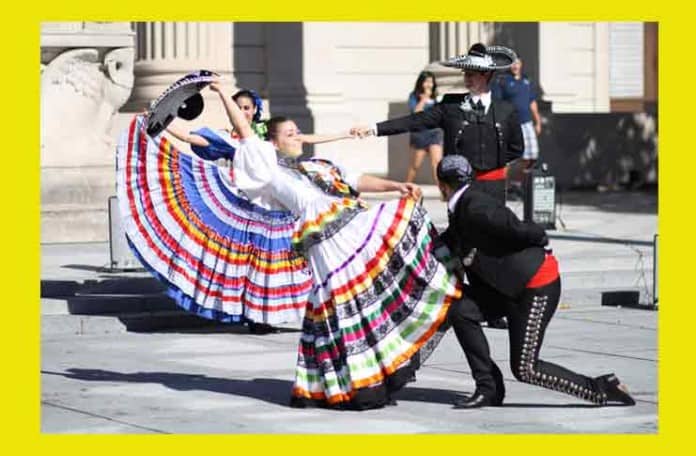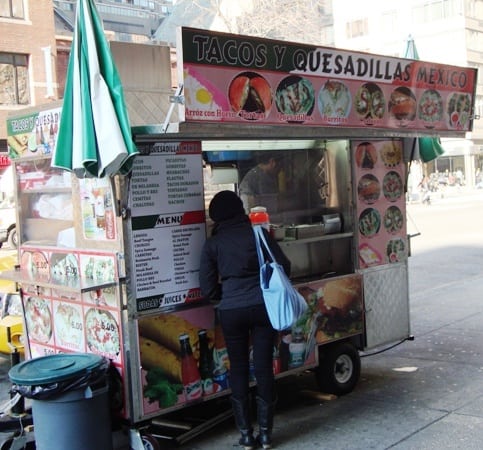 Things are getting pretty busy, with a lot of things that need to be done before year-end.  In the interest of a quick lunch, I went back to Tacos y Quesadillas Mexico, which is a quick walk from my office.
The cart has been on 9th Ave between 58th & 59th St for a few months, and last time I was there, one of the guys on line recommended their huaraches with carnitas.  Since I've already tried their tacos and quesadillas, and I've been getting into huaraches lately, that sounded good for this visit.
Today's Lunch is huaraches with carnitas ($5) from the Tacos y Quesadillas Mexico cart.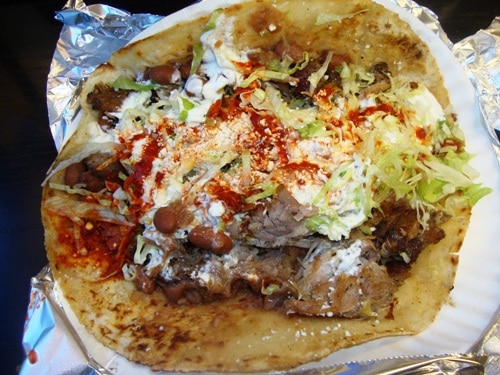 A large corn tortilla was put on the grill and topped with carnitas (roasted pork), beans, lettuce, crema, crumbled cheese and hot sauce.  It looked pretty good on the grill.
When I got back to the office and opened it up, the smell of carnitas came through first.  There weren't any utensils provided, so I folded the large, stuffed tortilla in half and took a bite – and it was delicious!
The carnitas were a little peppery, crisp in some places, and falling-off-the-bone tender (even though there were no bones).  You could see some black pepper on the ends of the pork, and I took a bite of just pork afterwards.  It was even tastier by itself than in the huaraches.
I'm not going to go into a lot of detail about the toppings, which were fairly standard Mexican toppings, but they were fresh, and the hot sauce was hot.
I was happy with the tortilla too.  It was crispy around the edges and soft in the center.
In terms of style, these huaraches was more similar to the one at El Idolo than the one at Paty's Tacos, and I like the choice of carnitas, which stands up to the cheese and toppings better than chicken.
Today's Lunch gets an 8 out of 10.  It's a great value, and the food is fresh and tasty.  I'm glad it was recommended to me by another customer, and I definitely recommend it to you too.