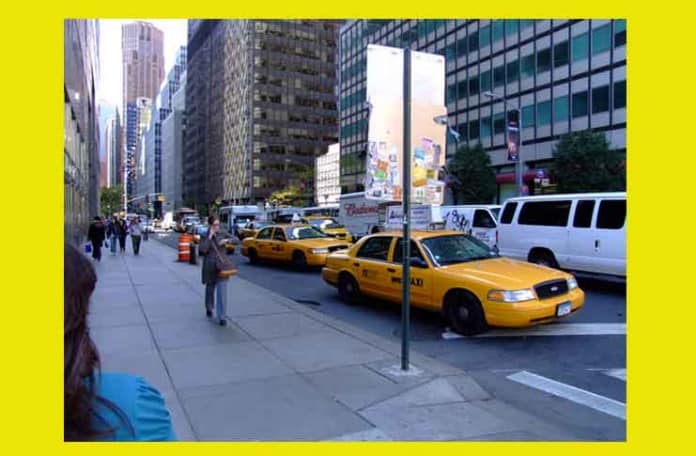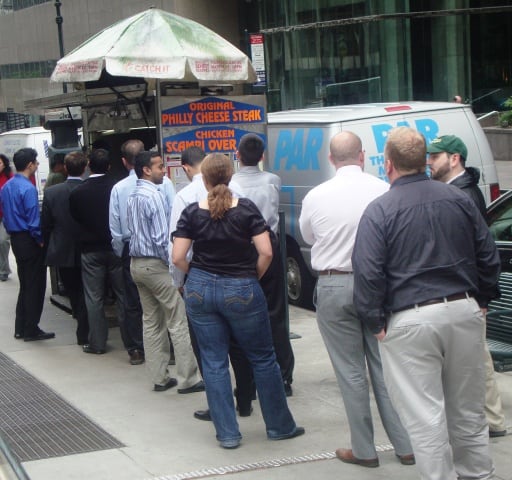 Magdy's has been on the NE corner of 46th St & Park Ave for 15 years and seems more popular now than ever.  Around lunch time, there  are usually at least 10 people on line, so if you're short of time for lunch, I would suggest going early, late, or in semi-bad weather.  The line does move pretty quickly, with the money being handled separately from the food, which helps speed things up a bit.  I waited around 10 minutes today, but it was worth it.
Last time I went to Magdy's cart for lunch, it was for their well-loved Philly cheese steak.  Today's Lunch was the other dish they are known for, chicken scampi over rice.
Despite the name, this dish has nothing to do with scampi in the Italian sense of butter and garlic.  It's their version of the ubiquitous "chicken over rice" found on many street food carts.  One thing that sets Magdy's apart is they only use chicken breast, which is a better quality meat than what's used at most of the other carts.  You won't get gristle or any other funky things in this chicken.
The white meat chicken is marinated, grilled and cut into nice-sized chunks before being put over rice and sauced.  You can also have it over salad instead of rice or on hero bread.
Someone ahead of me asked for onions, which sounded good, so I did too.  They took some grilled onions, chopped them up with the chicken, mixed it around and put it over rice.  Then came the white sauce and hot sauce.  You can also get bbq sauce or ketchup if you prefer.
The chicken chunks were large, moist and flavorful.  I could see black pepper and paprika in the chicken, and the onions were a nice addition.  The white sauce and hot sauce combination was excellent here, with some heat in the sauce – but I might ask for extra hot sauce next time.  If you want onions, make sure to ask for them because it's not in their default chicken scampi dish.
The rice was an orange rice – kind of like yellow rice but a different color.  I know that sounds silly, but even though it tasted pretty much like yellow rice, I can't call it yellow rice.  However, no matter the color, the rice was cooked just right.  It was plump and not dried out. The salad was pretty basic, but it was fresh and crisp, with white sauce as the salad dressing.
Today's Lunch gets a 9 out of 10.  It is one of the better "chicken over rice" dishes around – tasty and filling with only chicken breast used.  I just wish the line was a little shorter.