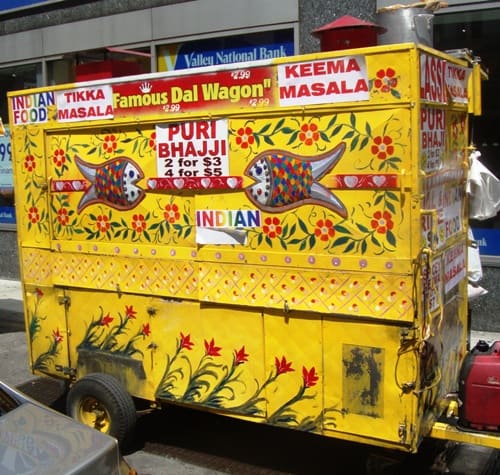 We had a chance to spend a few minutes yesterday with Tony from the Famous Dal Wagon. If you enjoy Indian food, but are not familiar with the Famous Dal Wagon, definitely stop by their cart on 39th St just east of 6th Ave. Just make sure you do it by the end of the month, or you'll have to wait until next spring.
Tony was lamenting that he only has a seasonal permit from NYC, which runs from April 1 through October 31. He would love to have a 2-year permit and operate here year round, but we all know just how difficult it is to acquire one of those. It's just about impossible to get a 2 year permit legally through NYC, and it's pretty tough (and very expensive) to get one on the black market.
If you see a bunch of street vendors closing up at the end of October, it's probably due to a seasonal permit. That fine for ice cream and slushes, but doesn't really work for savory vendors like the Famous Dal Wagon and Bistro Truck.
Instead, Tony is towards the end of the process of obtaining a Jersey City permit. He plans to set up shop somewhere in the Newport Center vicinity. We will give you more details as we get them.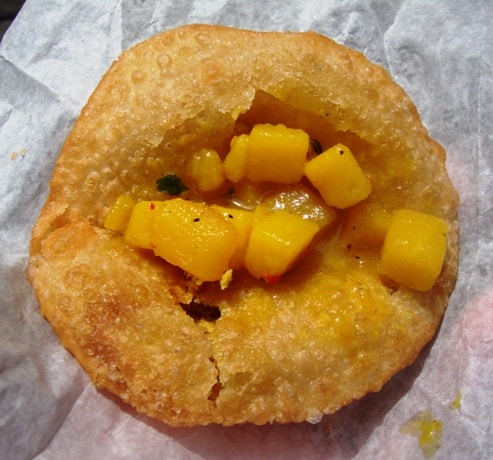 Tony is very proud of his food. While we were talking, he handed us a puri bhaji to eat. It was a soft, warm, puffy bread with a few spiced potatoes spooned into in the middle. A very nice appetizer of 3-4 bites.
By the way, did you know that Tony from the Famous Dal Wagon and Al from the Desi Food Truck are brothers? We didn't until yesterday.