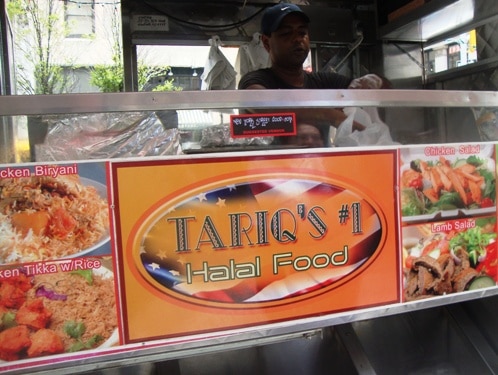 Ever had Sauteed Fish Halal style? We discovered Tariq's #1 Halal Food Cart from New York Street Food reader JR who emailed us about this great new cart on the NW corner of 19th St & Park Ave. JR told us about his experiences in a Guest Post, and a bunch of other readers commented  about how much they like both Tariq and his food.
We had a chance to stop by Tariq's #1 cart recently, and based on one of our other readers' comments, decided to get the fish for $7. We really enjoy fish, but don't get to eat it as often as we would like at home.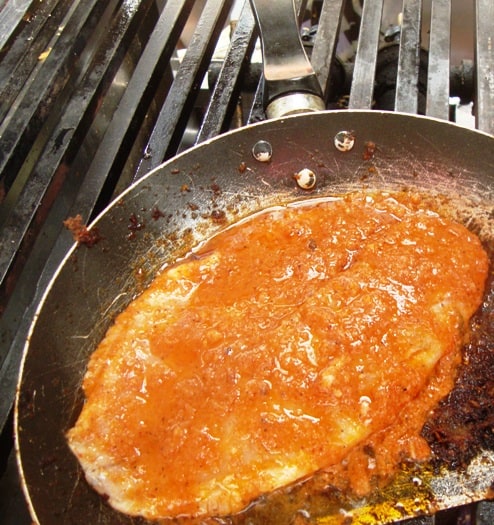 Tariq took out a large piece of fish with plenty of sauce and put it in a small saute pan on top of the flame grill. That was a much better choice than cooking it on the flat top grill.
Tariq said next time I want fish to call ahead, since it takes about 10 minutes to cook. If you want to call ahead for the Sauteed Fish, his number is 347-757-2736.
After he flipped the fillet over and it finished cooking, the Sauteed Fish was put over rice and a small salad was on the side. Tariq also put grilled onions and a couple of pieces of his chicken in the container for me to taste. This was before I even introduced myself as being from New York Street Food.
From what everyone says, if you show some interest in Tariq's food, or ask to taste something, he will oblige with a smile. Almost everyone who commented on the original post talked about how friendly Tariq was, and how much pride he had in his cooking.
The fillet did break apart a little when put into the platter, but it looked and smelled great. The sauce was a little spicy, but it was actually more herbaceous (is that a word?) than spicy. You can see from the photo below just how thick and flaky the fish was.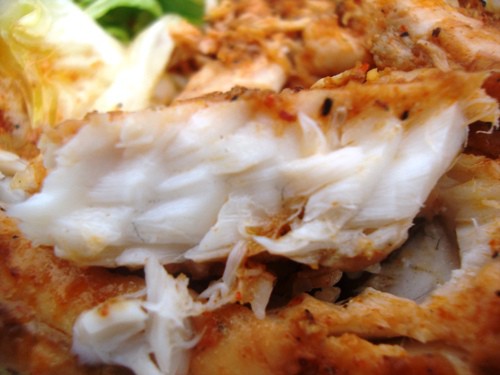 As good as the fish was, the rice was on the same level. I could easily detect clove and cinnamon in the basmati rice, and I'm sure there were other herbs and spices in there too. Word must have gotten out, because I got the 2nd to last order of rice, and it was only 1:45.  The woman 2 places behind me was pretty disappointed.
After devouring the fish and rice, I tried the chicken he gave me to taste. It was crispy on the outside, but was not dried out. The chicken had a nice flavor, and dipping it in the hot sauce was a good idea. The hot sauce was thicker and a little more tomato-ey than hot sauces at most other halal carts. He must use more tomato paste in the base – and it was most definitely hot for a hot sauce.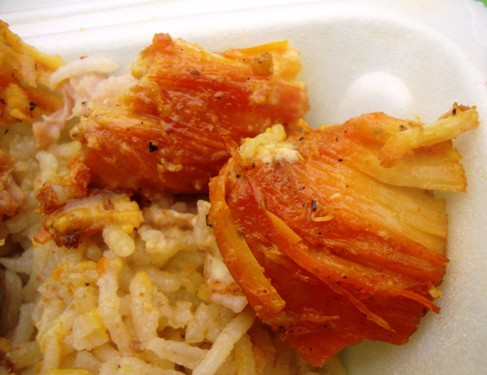 Tariq's #1 Halal Food cart does not have a website or twitter account, but if you go to the NW corner of 19th St & Park Ave South (right outside Bank of America), you will get a delicious, inexpensive lunch made by one of the friendliest street vendors around.
If you know of a street food vendor who goes above and beyond the usual fare, please email perry@newyorkstreetfood.com. We're always interested in hearing about street vendors that stand out from the crowd. You may even end up reading about them here. We already received one tip, and will be checking that out soon.