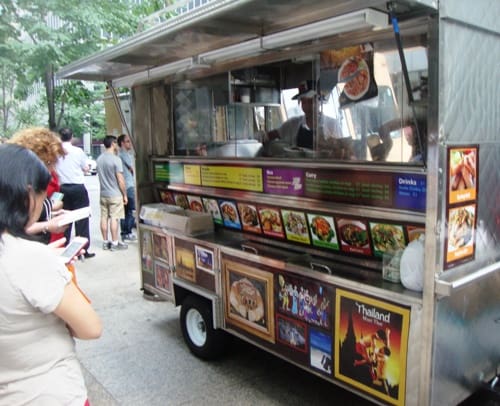 Feel like Green Curry With Chicken? When we see a bunch of people crowded around an unfamiliar street food vendor, it's usually worth taking a closer look. That's exactly what we did yesterday.
It used to be that good street food vendors went up 6th Ave from 43rd St to 50th St, but now 52nd Street west of 6th Ave also has two vendors of note.
We have been to the Korean cart, Gobuki, a few times, and now, just to their west is a Thai cart with no name (but a nice crowd).
The menu has a few appetizers, some noodle dishes such as pad thai and pad siew, and red, yellow or green curry with chicken ($7), beef or shrimp ($8 each).
We went for Green Curry With Chicken.
While the guy in the cart was making up several orders of pad siew in a wok, the woman made up our chicken in green curry sauce in a pot.
Our lunch was put into a pint container, apart from a foil container of white rice. This kept it from getting too mushy while heading back to the office.
Back at our desk, the (still) piping hot container was filled with chicken, bamboo shoots and broth. It was more like soup than a sauce, and after spooning out the solids, we were able to add as much sauce as we liked.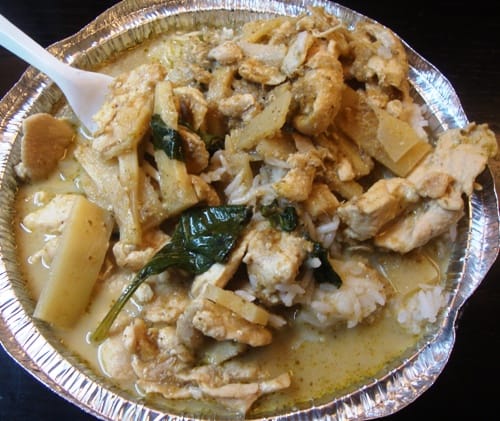 The broth tasted of lemongrass and basil, and there were a bunch of basil leaves in the container. It was also quite spicy.
There was plenty of chicken, a lot of bamboo shoots, and a few onions strips that made up lunch.
We can see why there were a bunch of people around this cart. While most people in front of us ordered noodle dishes, we were very happy with the green curry sauce and chicken.
When handed our order, we asked the woman what the name of the cart was, and she said they haven't named the cart yet. There are several Thai-themed photos on the front of the cart, but so far, no name.
If they don't have a name, they probably don't have a website, twitter or facebook account either. But you can find them on 52nd Street west of 6th Ave weekdays for lunch.