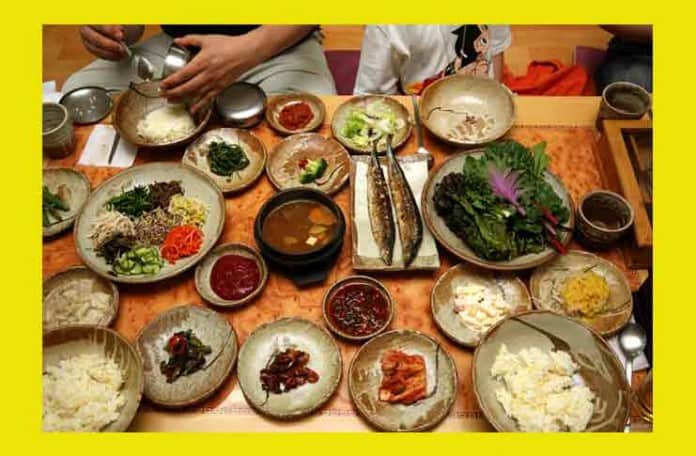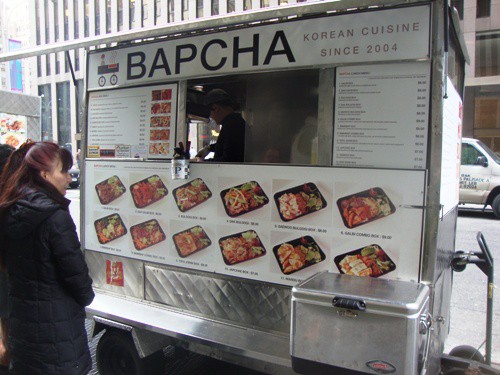 You may have noticed a new title for this post.  As of today, I am changing the name of the food truck and cart reviews from Today's Lunch to Street Eats.
New York Street Food has grown to the point where things are very busy, and I can't always eat, write and post a review on the same day.  You can be assured however that Street Eats will be posted within a day or two of eating the food, so it will still be fresh and current.
Last summer I went to Bapcha pretty regularly on 49th St between 6th & 7th Ave. They were one of our weekly stops on the New York Street Food Tour, but I haven't been there since the summer.
For some reason, I had a hankering for galbi – grilled marinated short ribs – and Bapcha has a galbi box for $8.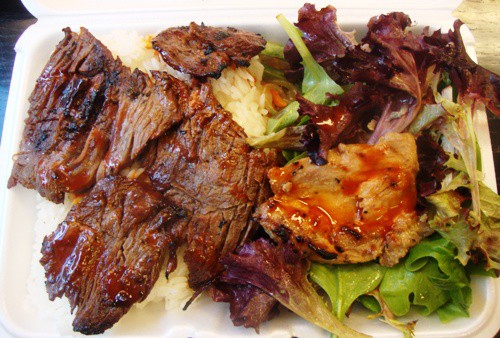 There was a decent amount of marinated, charcoal-grilled short ribs in the box.  As you can see, John tossed in a piece of dak galbi (grilled chicken) as well.
One thing John does that I don't see other carts do is he scores the beef.  By slicing into the short rib before it marinates, the flavor of the marinade seeps deeper into the meat.
The hot sauce at Bapcha isn't really that hot, but it goes well with the meat.  I also like what's under the meat.
In addition to white rice, there's a nice salad and cellophane noodles with a few veggies in a light soy-sesame sauce.  After eating the galbi and some rice, the salad and cellophane noodles are a pleasant way to finish the meal.
The Korean taco trucks get all the press, but if you want a solid, more traditionally Korean lunch for under $10, Bapcha fits the bill.  To see what else they have, check out their full menu here.